Why Orlando Pita Doesn't Do Mood Boards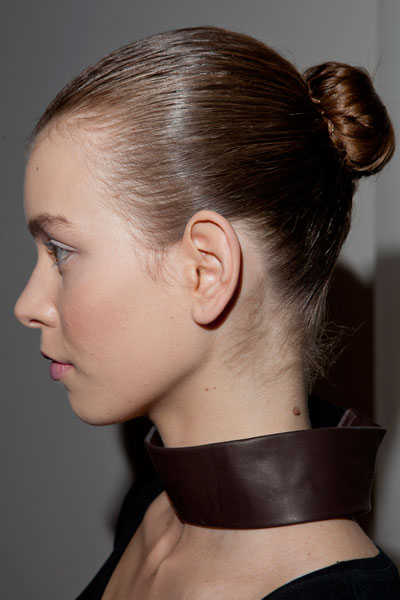 Hair by Orlando Pita for Doo.Ri. (Photo: Mat Szwajkos for Beauty Blitz)
Backstage at Doo.Ri, we asked Orlando Pita about the inspiration behind the "ballerina buns" he created for designer's the fall 2012 show - and got a pretty unexpected response. Here's what the veteran hair stylist had to say about creativity in the industry. Do you agree with his point of view?
"What I like about Doo.Ri is we talk about the clothes, we talk about hair. I hate talking about so-and-so [reference].
I hate recreating the past.
So I love it when a designer doesn't tell me, 'Oh, the inspiration is Liz Taylor.' I hate all that kind of stuff, because especially in fashion, at this moment, it doesn't move us forward. You get to a place, they have a mood board, there's all these references from the past. I started in 1984, I mean, we didn't have mood boards until about 10 years ago. You didn't come into work and say, 'Okay, so we're inspired by the past.' No - you're there at the moment, and like, 'What are we going to do now, today?'
"I'm just trying to do something that's right for the collection, and Doo.Ri wanted something that looked sophisticated and very well-groomed, and she said, I have this headband, what do you think? So we tried a messy knot, we tried a ponytail - we tried different things, and we came up with the thing that's right. But it's not about looking to the past, and I would love if more people would not look to the past."
Keywords
Get the latest beauty news and inspiration!
Sign up for our newsletter to receive the latest from Beauty Blitz delivered straight to your inbox.