Here's a scientific explanation for why your selfie sometimes looks...off. [The Atlantic]   If you've ever wanted to know Mary-Kate and Ashley Olsen's beauty secrets, you're in luck. They...
read more >>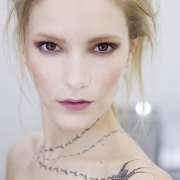 Today, tattoos are a fixture in pop culture, with everyone from Rihanna to Angelina Jolie sporting visible ink. But the medium also has a rich history that dates back to cavemen days, with some...
read more >>
First, there was fur chalk for dogs. We weren't feeling it. But just when we thought people have gone far enough, we hear about tattoos for dogs. Yes, you heard that right. Yesterday, The Huffington...
read more >>
What We're Loving Now