OPI's First Branded Film Features a Dancing Thoroughbred with a Hoof Manicure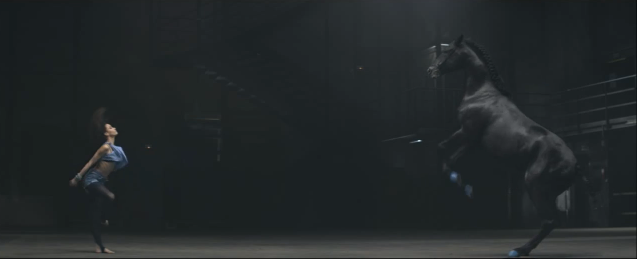 We know what you're thinking – how does a nail polish and movie collaboration make sense? Leave it to famed nail care brand OPI to reveal a creative way to showcase their beloved shades of polish. Instinct of Color features a dance-off between four women and a Thoroughbred rocking the brand's bestselling colors on its hooves.
The film pays homage to OPI's Culture of Color through dance. Each woman represents a specific style of dance, from ballet to tap, while featuring four difference lacquers: Pink-ing of You, Red My Fortune Cookie, Need Sunglasses? and No Room for the Blues. The stunning Thoroughbred, named after the classic OPI shade Lady in Black (Also known as Black Onyx in North America), shows off her moves against each dancer while also wearing the corresponding polish shade.
"I always say that nail lacquer can change your look – and your outlook," said Suzi Weiss-Fischmann, OPI Executive VP and Artistic Director. "Today, nail color can convey feelings and emotions, expressing on the outside what the wearer is feeling on the inside. In this short film, four women communicate through dance and color. With a trained Thoroughbred who could replicate the dancers' moves with very little digital enhancement, we were able to capture the unique, energetic and creative culture that epitomizes the OPI brand."
Check out the Thoroughbred's amazing dance moves and cool "hoof-icure" below!
Keywords
Get the latest beauty news and inspiration!
Sign up for our newsletter to receive the latest from Beauty Blitz delivered straight to your inbox.