7 Secrets of Morning Show Hair and Makeup Teams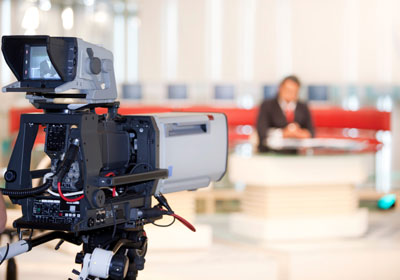 Morning show hosts are in full hair and makeup before I even think about hitting the snooze button - a daily miracle performed by behind-the-scenes beauty pros wielding hair dryers and under-eye concealer. So how much work is really involved in prepping famous (and not-so-famous) folks for the cameras? I spoke to two members of Good Morning America's beauty team to find out. Here's what I learned.
1. The day starts crazy early.
At GMA, hair and makeup teams report for duty between 4:45 and 5 AM. "First thing in the morning, everyone's literally rolling in from out of bed," says makeup artist Lisa Kapler. So to combat signs of fatigue, she preps the face by spritzing on cool Evian water to soothe the skin and reduce swelling.
Dark circles and bags around the eyes are a fact of life on a morning show set. Covering them is all about layering, Lisa says. She starts by prepping the eye area with a hydrating cream, since cream formulas mix better with makeup than gel products do. Next, she applies "heavy duty" Dermablend concealer - "it would cover a tattoo," she says - and blots the area with a tissue. On top of the concealer, she adds BareMinerals powder, which sets the cream concealer and adds another layer of coverage. "Mineral powder is nice because it's light reflective, which makes the undereye pop," Lisa explains.
2. They don't do helmet hair.
The show's hosts might look impeccable, but that doesn't mean their hair is hard to the touch. "I don't want anybody to look like an anchor, so I make sure the hair is free flowing," says Patrick Alemi, head of hair and makeup at GMA.
Instead of shellacking the hair in place, he relies on touch-ups throughout the show to keep hair neat - which means using products strategically. "I use a flexible hold [hair spray] when a person on show has a tendency to touch their hair a lot. You want to be able to retouch it so it wont turn into glue," he explains. To clean up flyaways, he mists hair spray directly on a shaving brush and wipes the brush lightly over the hair. "This way you don't flatten out the form."
To give styles volume, Patrick has a few products he swears by: If he's retouching dry hair, he applies John Sahag Air Lift Volumizer to pump up strands. He uses Shu Uemura Fiber Lift on wet hair before blow drying to add height at the roots, and finishes with Shu's Satin Design White Tea Polishing Milk to add "intense shine." This gives a blowout a three-to-four day lifespan, he says.
3. HDTV raises the beauty stakes.
"You can see the makeup so much more now," than in pre-HD days, Lisa says. "If you have any demarcation line from foundation on your face, your neck, it looks more dramatic." She uses foundation formulated for HD with light-reflecting properties to mask imperfections (scars, indentations, fine lines). She matches the foundation to the wearer's skin tone, then uses powders or bronzers to color correct for lighting and to neutralize any sallow or red tones. "If the lighting is very yellow, I'll add a bronzer that has a bit of a red tone to warm them up a little bit," Lisa explains.
4. Guests get touch-ups before going on air - but not full makeovers.
"I'm responsible for the look of the show, so all the guests have to be touched," Patrick says. That means smoothing out straight straight styles or re-curling wavy ones - but there isn't time for a full wash and dry. (Note to self: show up for any future TV appearances with clean hair.)
As far as makeup goes, Lisa says, "Sometimes I fix [guests' self-applied] eye shadow because a lot of people don't understand lighting and TV. If you use certain shadows, it can show up a different color: too shiny, dirty or muddy" under the set lighting. For example, shimmery pastel shadows don't translate well on television, since the strong lighting washes out the color and makes shimmer look like greasy skin.
5. Men are wearing makeup, too.
"It's definitely full foundation and powder," Lisa says. "A lot more than you'd want to wear day to day!" She says a number of guys are reluctant to let her apply makeup on them, but "I'm not looking to beautify them, just to have them look camera ready." She doesn't use light-reflective HD makeup on men (dewy skin is too feminine); just a cream base applied thinly, dimethicone-based products to mattify and smooth the skin, and powder. And antiperspirant - for the face - is often part of the equation with men, Patrick adds. "If we have person who sweats a lot, we use a product called Sweat Stop," he says. "It's mostly for guys because guys sweat more."
6. The pros are particular about what goes in their kits.
Patrick's loyal to the T3 Evolution Hair Dryer - "the best out there" - and L'Oreal Elnett hairspray. He uses brushes by T3 and Mason Pearson. (One of his male regulars is picky about tools - he only likes Mason Pearson brushes to touch his hair, and tells Patrick he always knows when the stylist switches to a cheaper brush!)
Lisa's go-to skin prep product is Kiehl's Epidermal Re-Texturizing Micro-Dermabrasion, which "takes off every dead skin cell." She loves Dr. Alkaitis Organic Eye Crème and Organic Day Crème for "instant hydration." Koh Gen Do Moisture Foundation is her go-to hi-def makeup, and she sticks with BareMinerals and Jane Iredale mineral powders. Equally essential is her arsenal of high quality brushes made with soft squirrel bristles and her natural fiber (never synthetic) powder puffs.
7. They rely on time-saving tricks to get talent and guests ready fast.
With the show's segments scheduled to the minute, "everybody is always on a time crunch," Patrick says, so he's developed techniques to speed up the coiffing process. For example: Instead of waiting for hot rollers to heat up, he flat irons hair in sections (to pre-heat it), then sets in velcro rollers lined with aluminum, which he blasts with heat from a blow dryer's diffuser.  
Lisa has come up with time-saving tricks, too. She skips playing with "creative" eye shadow and instead focuses on heavy eyeliner and mascara, which have more impact on camera. And rather than creating a different look for each person who sits in her chair, she sticks to one of two color families for cheeks and lips - pink/red or coral/orange - and adjusts the depth or lightness of the color depending on the person's skin tone. "Those two colors look really good on all skin types," she says. "It helps keep everything moving really quickly in the makeup room." And that's what this job's all about.
Keywords
Get the latest beauty news and inspiration!
Sign up for our newsletter to receive the latest from Beauty Blitz delivered straight to your inbox.