Would You Wear Zombie Scented Perfume?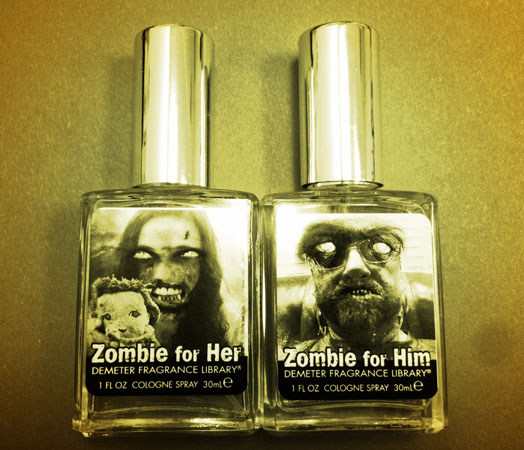 So you're a huge fan of The Walking Dead (we're obsessed) and you've seen every zombie apocolypse movie from Night of the Living Dead to Shawn of the Dead, but are you a big enough zombie fanatic to want to smell like the dead? Demeter Fragrance Library, known for it's massive variety of scents, is launching two limited-edition fragrances inspired by zombies. Seriously!
Zombie for Him and Zombie for Her are said to help you survive the apocolypse. How? Well, since you smell like a zombie, other zombies won't go after you, duh! The men's and women's scents are blended with notes of - are you ready for this? - dried leaves, mushrooms, mildew, moss and earth. In addition to those notes, the women's scent also includes a touch of Dregs from the bottom of the wine barrel ("for a feminine touch").
We can't imagine who would want to smell like a real zombie but it could be the perfect touch for the ultimate Halloween costume, no? The limited-edition cologne sprays will be available from March 15th to April 30th at www.DemeterFragrance.com.
Keywords
Get the latest beauty news and inspiration!
Sign up for our newsletter to receive the latest from Beauty Blitz delivered straight to your inbox.