Women Spend 2 Weeks a Year Making Themselves Look Pretty, Survey Says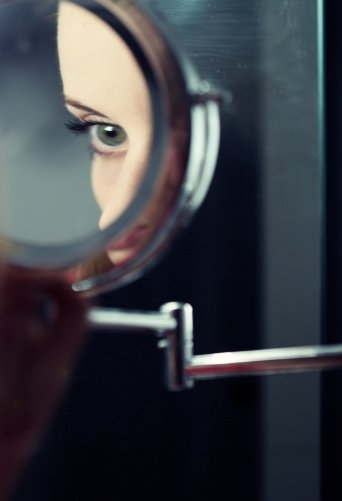 We've always known all that time spent in front of the bathroom mirror adds up, but now we know exactly how much: the equivalent of a really nice, long vacation.
Women spend an average of 55 minutes a day on their appearance, a new Today show/AOL survey has found.
That's about two weeks per year devoted to blow drying, concealing, applying mascara, shaving and keeping up with all of the dozens of other grooming chores that our culture has led us to believe are non-negotiable. Men, on the other hand, only spend about 38 minutes a day in the pursuit of physical perfection. (Meanwhile, I probably average closer to two hours daily on my multi-step skincare routine, daily smoky eye, wavy hair-wrangling regimen and DIY manicures. Where my high-maintenance ladies at?)
So what's behind this devotion to prettifying ourselves? Insecurity, of course! Eighty-two percent of women believe "I always feel like I could lose weight" (though it's unclear whether working out counts as spending time on your "appearance" or on your health). Sixty-six percent don't like having their picture taken. Sixty-nine percent hate their stomach, and 40 percent worry about their skin.
But the news isn't all bad: it appears we worry less about the way we look as we age. Eighty percent of women under age 24 fret about their looks on the regular, but after age 55, only 52 percent worry about their appearance. Something to look forward to, maybe?
Photo by: Getty Images
Keywords
Get the latest beauty news and inspiration!
Sign up for our newsletter to receive the latest from Beauty Blitz delivered straight to your inbox.