Votre Vu: Avon Ladies with French Accents?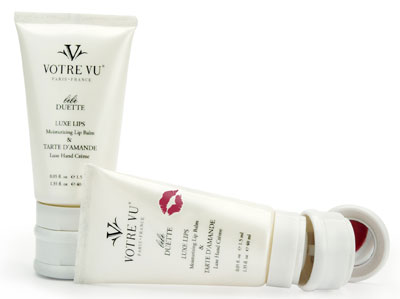 Word of mouth is the best advertisement, as makeup brands like Mary Kay and Avon well know. Both companies have long used armies of reps - mostly women who love and use the products themselves - to turn personal recommendations into sales.
Well, there's a (relatively) new sister in town, and her name is Votre Vu. Conceived in 2007 through the vision of an American businessman, Votre Vu marries French skincare tradition with American entrepreneurial spirit - and a grassroots business model a la Avon and Mary Kay. Today, the company offers over 60 products that cater to four different skin types and cover every area of concern, as well as a specific men's line.
I was given the opportunity to try out a smaller version of their signature product (new for fall), the Bébé Duette Luxe Lips and Tarte D'Amande ($38.50), which is a lip balm and hand cream duo packaged in one nifty double-capped tube. The Tarte D'Amande (hand cream) smells like delicious almond pie topped with coconut flakes and better yet, moisturizes the skin without the lingering oiliness of some creams. The lip balm's texture is light, but manages to stay on my lips for a couple of hours. I've been keeping the duo in my bag since I got it!
Votre Vu products are available on their website and through their Brand Ambassadors.
- Xiao, Beauty Blitz Intern
Keywords
Get the latest beauty news and inspiration!
Sign up for our newsletter to receive the latest from Beauty Blitz delivered straight to your inbox.