Under the Radar: Face Place New York
Last week I felt like I was heading to the speakeasy of spas. Face Place New York sits atop the Sally Hershberger Downtown Salon, but there's no sign, no window - it's just there. Even after I was let in when I pushed the buzzer, I felt shy about opening the door to the Face Place, because it felt so hidden. This under the radar spa has been in the New York City's Meatpacking District since 2005 and has its own unique approach to facials and its own skincare line, too.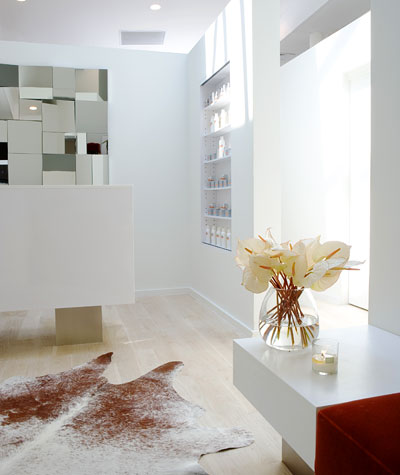 After entering the all-white spa, Tom Woodhouse treated me to the standard Face Place facial - but there was definitely nothing standard about it. I expressed my concerns over my sensitive skin and dried out complexion, and Tom ensured me I was in good hands. I hung up my top and wrapped the terry robe around me, and that's pretty much where the "typical" ended.
I hoisted myself onto the bed and my bottom half was elevated on a wedge that had my legs and feet hanging out high above the rest of my body, for circulation I suppose. First my face was cleansed and prepped for extractions. Instead of steaming my pores open, Tom placed strips of cotton that were soaked in a yucca solution all over my face and topped off my mummy appearance with a cone that produces dry heat. Together they softened and cleansed my pores for about 15 minutes. After much insisting that my delicate skin couldn't handle the stress of extractions, Tom gave me the most gentle experience ever.
Most facials achieve exfoliation through a mask or scrubbing of some sort, but Tom vacuumed away my dry flaky skin. It was a light touch that had more of a tickling effect than a sucking sensation. And for the part I had been waiting for - hydration - Tom placed a vitamin and mineral solution all over my face topped with a hard mask that created a galvanic current. It helped the solution penetrate deeper and encouraged collagen production and tissue repair. While some clients felt a slight tingle or a experienced a metallic taste in their mouth, neither happened for me.
Before I went to the Face Place, my sensitive skin was completely stressed out and healing from a traumatic facial experience. A week after Tom worked his magic, my skin is so smooth, even and not a budding blemish in sight. Face Place is one of the best kept secrets in New York!
Keywords
Get the latest beauty news and inspiration!
Sign up for our newsletter to receive the latest from Beauty Blitz delivered straight to your inbox.