The Tough Look Made Simple at Richard Chai Love Fall 2013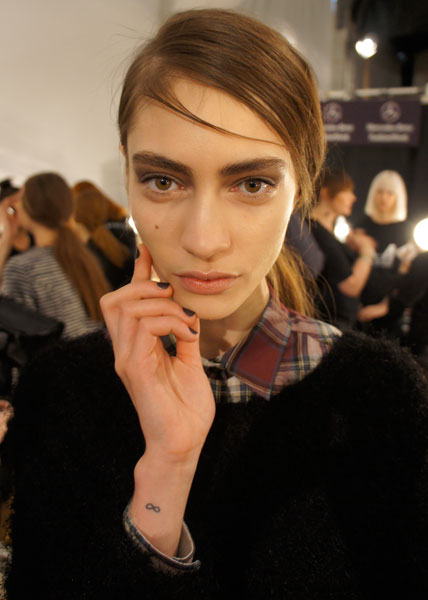 According to the pros backstage at Richard Chai Love Fall 2013, looking tough barely requires any effort. Anyone can get the look and make it cool. The designer's collection was military-inspired with various fabrics and textures in olive green and fair purple hues. The hair and makeup was simple, yet made a statement and really went well with the clothes. James Kaliardos and Kevin Ryan showed us how to look tough without trying to hard. Plus, Deborah Lippmann gave us the scoop on what will be the "it" nail trend for fall.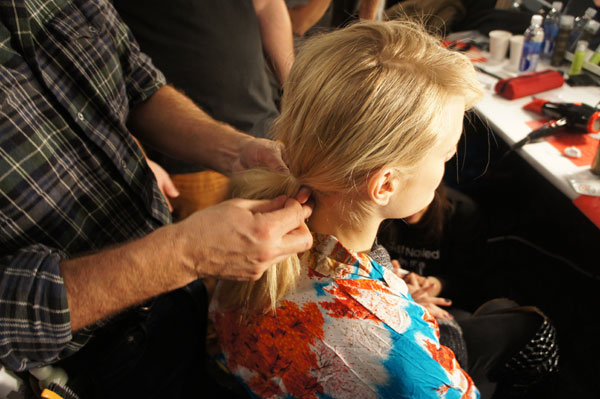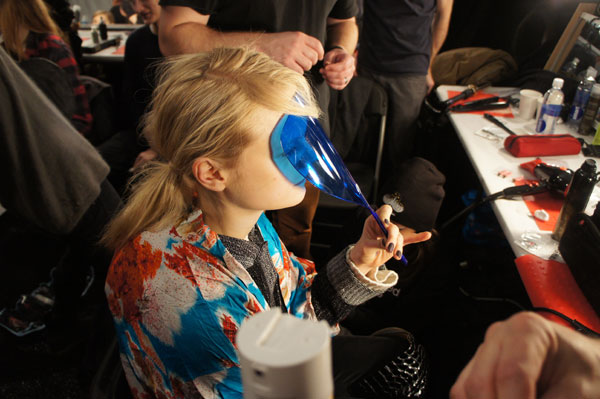 Kevin Ryan for RSession Tools for Beauty.com opted for a simple, low ponytail with tons of texture. He broke some rules while getting the look, too (we love that!). To get that rough, grungy vibe, Kevin used lots of dry shampoo and sprayed it fairly close to the hair. "On the package, it probably says to spray it at six to eight inches away from hair, don't do it. Spray close to the root and it will just go a bit wrong and a bit clumpy," he said. "When it says don't operate heavy machinery, you should do it." (Har, Har!) He parted the hair deeply to the side and swept it back to a low ponytail (one side over the ear). Then, he simply took a piece of hair and wrapped it around the elastic. Kevin couldn't stop talking about the elastics he used (Ricky's No-Snag Elastics). Ricky himself was also backstage and Kevin raved, "God they're good by the way, I've been really rough with them and not one has snapped."  He topped it off with tons of L'Oreal Paris Elnett Hairspray (the models even shielded their face from Kevin's dangerous spritz with beauty armor).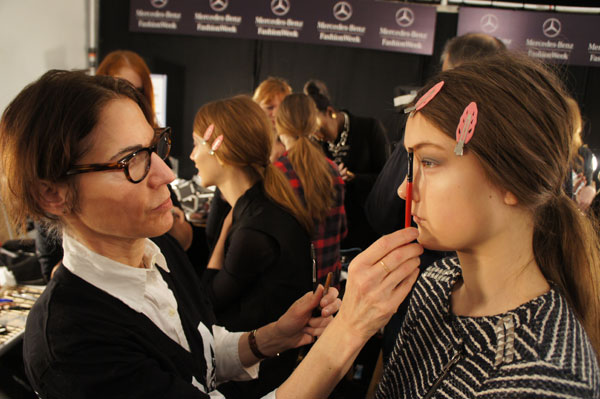 If you thought that was easy, James Kaliardos for Maybelline can top it. He applied BB cream on all the models (even the boys!) and perfected the skin with Maybelline Dream Lumi Touch Concealer. For the eyes, he used Maybelline Color Tattoo Eyeshadow in Tough As Taupe to create a smoky eye that went all the way up to the brow. He applied Maybelline The Rocket Volum'Express Mascara only on the base of the eyelashes. "It sort of gives this volume at the base," he said. "It acts as an eyeliner but it's not." He finished the look with Color Whisper Lipstick in Bare To Be Bold. "It takes down the lip and makes it more beige and healthy."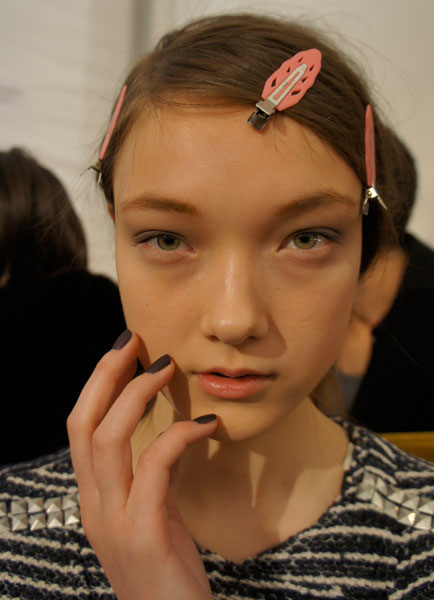 Over in nails, Deborah Lippmann for Beauty.com gave us the scoop on a new shade for Holiday 2013 (it's worth the wait, we promise!) called Harem Silks From Bombay. "It's a bodacious boysenberry. I just love saying that," she said. The makeup is super matte and the eye is matte, so the nail is also matte but it has sheen in it. This is a new finish for us." As for the hot nail trend for fall? "The fall is going to be about different textures in nail. It's not about a nude nail anymore," said Deborah. Suddenly, we're super excited for the season! Can we fast-forward to October, yet?
If you're dying to try the nail look at home, but don't have Deborah's number on speed dial to try the exclusive shade, layer Wicked Game over Dark Side Of The Moon and finish with Flat Top Matte-Maker Top Coat. It will give you the same effect!
Keywords
Get the latest beauty news and inspiration!
Sign up for our newsletter to receive the latest from Beauty Blitz delivered straight to your inbox.