#SummerProblems: How to Camouflage Tan Lines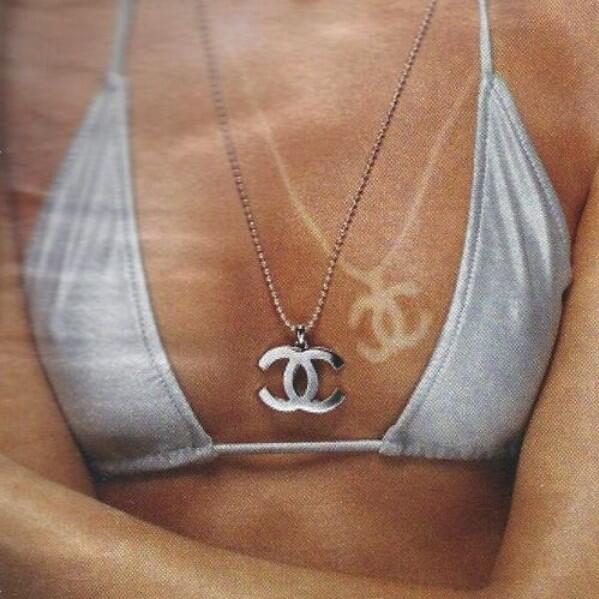 Photo: via Pinterest
While the weather might be gorgeous, some summertime staples are anything but pretty: think tan lines, sweat-streaked mascara and chlorine-green hair. This season, we're solving your #SummerProblems so you can focus on more important matters...mojitos by the pool, anyone? 
Remember a time before we cared about age spots and sun damage, when tan lines were so cool? Now they're just a way to make a strapless dress look sloppy or to betray to your boss the real reason you missed work yesterday. But no matter how many times we dutifully reapply SPF, funky tan lines can happen to the best of us — whether it's a bikini strap mark on the décolletage or a sunglasses stripe on the face. The good news? You have plenty of options when it comes to hiding them.
Even Out Your Color with Self-Tanner
According to Sophie Evans, St. Tropez Skin Finishing Expert, you can use self-tanner to camouflage tan lines. She recommends opting for a tanning solution that contains instant bronzer, such as
St. Tropez Bronzing Lotion
, so you can see where you're applying the color. "Using a Q-tip or a foundation brush, fill in the white tan lines only," Evans advises. "Apply heavily if the natural skin is well tanned! Allow the tan to develop, preferably overnight, and if need be, repeat the process until the white patches match your dark skin."
Cover Up Tan Lines with Makeup
No time to wait for a self-tanner to develop? Makeup can help cover tan lines instantly — but making the effect look natural requires the right technique.
Since too much sun can leave skin flaky, you'll want to prep the area before you apply any makeup, says
Vanessa Scali
, a makeup artist who works with beauties like Christina Hendricks and Lucy Hale. "Prepare the skin with a body mitt or gentle exfoliator," Scali says. "This will even out your skin texture and slough off any dry skin."
Once you've prepped your canvas, "Using a liquid, stick or aerosol foundation that matches your tan, apply in the light, untouched-by-sun areas," Scali advises. "When the area is filled, tap the coverage into your skin to set." You'll want to avoid highly emollient formulas, she adds; matte or semi-matte makeup will work best.
Depending on where your tan lines are, it may make more sense to highlight instead. "If the tip of your nose is a bit darker from catching more sun, it can be covered quickly and easily with a lighter color concealer, one with a more yellow tone if you need to knock out any redness," says makeup artist
Tsipporah
. She recommends busting out your trusty 
YSL Touche Éclat
 for this job. "If you use just a shade lighter than your normal complexion, it's a nice way to subtlety contour the nose."  
"To neutralize other tan lines on the body, I suggest a light water based foundation that matches your tan," Tsipporah says. "Simply blend in with your hands like lotion.
MAC Face & Body
is a great choice."
More #SummerProblems:
Keywords
Get the latest beauty news and inspiration!
Sign up for our newsletter to receive the latest from Beauty Blitz delivered straight to your inbox.