The Golden Globes are a Mecca of inspiring beauty looks, and nail art is no exception. This year, one TV darling and one Hollywood starlet rocked the coolest tips on the red carpet. Zooey Deschanel...
read more >>
Zooey Deschanel loves posting about her adventures in nail art, and last night's Emmys were no exception. The New Girl star played homage to the small screen with accent nails featuring a sparkling...
read more >>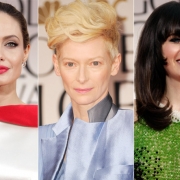 The Golden Globes are, without fail, the best red carpet for beauty stalking - and this year's awards didn't disappoint. Read on for our top favorites and fails.
read more >>
January 15, 2012 - 12:49pm
What We're Loving Now