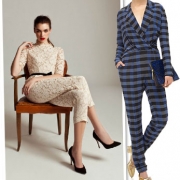 Following a controversial Golden Globes look, Julia Roberts chose a stunning raspberry jumpsuit for the SAG Awards. I'm still craving the silk-crepe Valentino. Swishy palazzo pants and halters...
read more >>
First, there was fur chalk for dogs. We weren't feeling it. But just when we thought people have gone far enough, we hear about tattoos for dogs. Yes, you heard that right. Yesterday, The Huffington...
read more >>
I might be a little late with this, but I'm kind of obsessed with OPI's Liquid Sand formula. The four original shades are featured in Mariah Carey's OPI collection and a new color will debut as part...
read more >>
What We're Loving Now