According to FitBit, I take on average 10,000 steps a day. That means each foot pounds the pavement 5,000 times. It's pretty impressive, especially when you factor in my collection of oppressive...
read more >>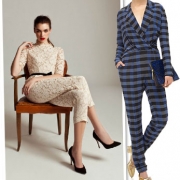 Following a controversial Golden Globes look, Julia Roberts chose a stunning raspberry jumpsuit for the SAG Awards. I'm still craving the silk-crepe Valentino. Swishy palazzo pants and halters...
read more >>
We love a great accessory. Whether it's a fabulous statement necklace or a bold red lip, a fun accessory that represents your unique personality and style allows you to shine even on the dullest of...
read more >>
What We're Loving Now