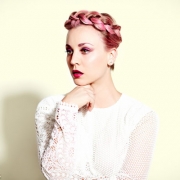 Photo: Mane Addicts   Haley Cuoco is not afraid of experimenting with beauty. From chopping her blonde locks into a pixie to rocking a color block teal and green cat eye, Cuoco has what we like to...
read more >>
  Last night's Fashion Los Angeles Awards featured a sea of beautiful people, including Drew Barrymore, Gigi Hadid, Rihanna and Miley Cyrus. But it was Nicole Richie and Katy Perry who had us...
read more >>
  We're still constantly checking our Instagram feeds to see if the social media platform has allowed @BadGalRiRi to reactivate her account, but no dice. (Come on, Instagram! We're sure she's...
read more >>
What We're Loving Now