Step aside argan, there's a new oil taking over our skin and hair care routines. While we love you for your fatty acids and vitamin content, we can't help but lean towards marula oil's higher...
read more >>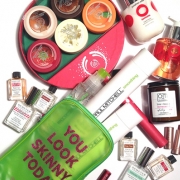 Between chocolate-filled advent calendars and mom's homemade apple pie, the holidays are the reason "eating better" and "signing up for the gym" are at the top of everyone's New Year resolutions...
read more >>
    In case this summertime heat wave has your feathers ruffled, you can smooth them down with a new Paul Mitchell flat iron. The brand is launching a limited-edition peacock-printed iron this...
read more >>
What We're Loving Now