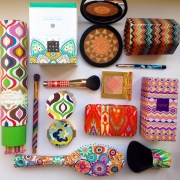 If you're not following Beauty Blitz on Instagram, what are you waiting for? Here's our latest snap from our behind-the-scenes feed.   GRAPHIC CONTENT. May not be suitable for boring people.  ...
read more >>
July 3, 2014 - 4:22pm
Target's latest designer collab with Missoni has been creating plenty of buzz, especially considering there over 400 pieces (!) in the collection. But most intriguing was the way Target decided to...
read more >>
What We're Loving Now