When it comes to cool girls who rule the red carpet, Kate Mara is way up there. She's constantly switching up her look up, and pulling it all off effortlessly. We're especially fond of the many...
read more >>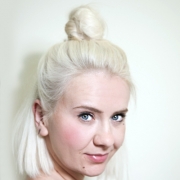 The blunt bob is having a moment right now, with everyone from Jennifer Lawrence to Beyoncé getting in on the action. But as someone with above-the-shoulder-hair, I know how hard it is to not wear...
read more >>
I recently cut about six inches off my hair — a liberating experience which I highly recommend — and ever since, I've been at a loss as to how to style it. With medium length hair, shorter pieces...
read more >>
What We're Loving Now