I loved painting my nails as a kid. There was only one problem – I would only paint the nails on my left hand because I'm a righty. That's right, I would actually give up when it came to using my...
read more >>
Nail Art has made its mark on the beauty world and it seems like the trend is going to be around for quite some time. So why not embrace it? These nail art kits in a box are the perfect solution to...
read more >>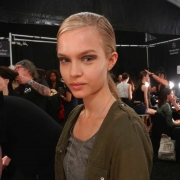 It's only day two of NYFW Spring 2013, and we're already spotting a couple trends: sixties influences and metallic manicures. The minimalist look backstage at Richard Chai's Spring 2013 show...
read more >>
What We're Loving Now