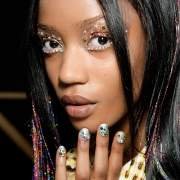 A model wears face jewels at Ashish Spring/Summer 2015. Photo: Imaxtree   Thanks to the internet and social media, beauty memes move at the speed of light. A look or a product that was obscure...
read more >>
  We all know that too much Botox can wipe away a person's facial expressions along with her worry lines. This is bad if you're an actress, but seems to have a positive effect on sufferers of...
read more >>
The most well known injectable is celebrating its 10th anniversary, and we're honoring Botox with 10 interesting facts about this famous toxin. 1. Yes, Botox has its roots in food poisoning. In the...
read more >>
What We're Loving Now