Interior and furniture designer Faye Toogood has teamed up with makeup artist Ayami Nishimura once again for a new concept collection for MAKE. We didn't think it was possible to top their first...
read more >>
May 22, 2013 - 3:44pm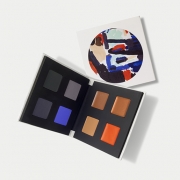 Weseebeauty.com is showing us a new take on creative collaborations this year. The e-commerce site and social enterprise platform is debuting it's first makeup collection, dubbed MAKE, "created to...
read more >>
What We're Loving Now