This season is going to be filled with really good hair days. How do we know? Because the latest group of styling tool launches are that awesome. These irons, dryers and brushes are so easy to use,...
read more >>
Now that the weather is warmer, it's all about exposing the neck to stay cool. Kate Mara got the memo when she attended the White House Correspondence Dinner. To complement her white Prada gown and...
read more >>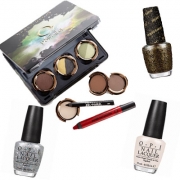 Disney's OZ: The Great and Powerful hits theaters March 8th and, even if you're not excited about the movie, the latest OZ-inspired beauty is something everyone can rave about. Whether you fancy...
read more >>
What We're Loving Now