Support Japan Relief: Mirai Launches Anti-Aging for Body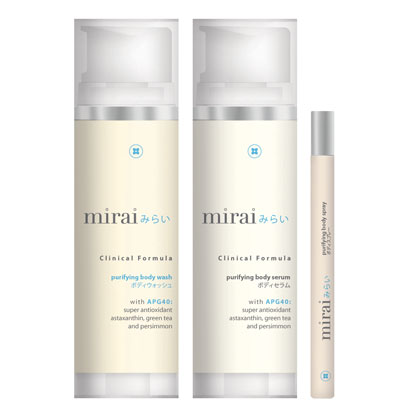 Anti-aging is nothing new in the skincare category, but Mirai Clinical is focusing on anti-aging benefits from the neck down. With people so focused on saving face, we think it only makes sense to launch products that keep thighs, stomachs and arms looking young, too!
Mirai Clinical recently launched their e-commerce site, which features three of their anti-aging body products: Purifying Body Wash ($38), Purifying Body Serum ($49), and Purifying Body Spritzer ($28). These products all feature the powerful antioxidant astaxanthin, which is thousands of times stronger than vitamin C. Plus, persimmon tannins are another antioxidant known to purify and deodorize the body, while green tea reduces inflammation and moistens the skin.
Mirai Clinical's founder, Koko Hayashi, who was born and raised in Japan, is using her business to help aid the Japan relief efforts by donating 10 percent of sales to the American Red Cross now through December 31, 2011.
"I feel very strongly that we have to do whatever we can do to help," said Koko. "It's easy to say we're saddened or to show sympathy but that is not enough. If everyone makes a donation, no matter how minimal, those efforts accumulate and amount into a large help."
The Mirai factory, which stands in Gumma Prefecture, was also hit by the tsunami with many machines badly damaged. Luckily, no one in the factory was seriously injured.
"We await their recovery," said Koko. "It's important for us to support such damaged local business."
If you're not ready to splurge on all the full size products, you can acquaint yourself with the brand through the Travel Size Set ($10). The body wash and body serum improve firmness and estasticity, prevent signs of wrinkles, moisturize and restore smoothness. The products are super lightweight with a clean scent. The body spritzer is a new take on the average deodorant with a sweet grapefruit scent.
Keywords
Get the latest beauty news and inspiration!
Sign up for our newsletter to receive the latest from Beauty Blitz delivered straight to your inbox.