Let's Make Statement Surgical Masks Happen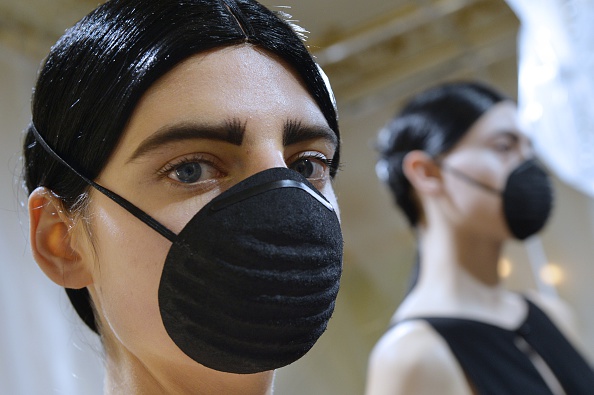 Models wore black face masks at A.F. Vandevorst's Paris Fashion Week show. Photo: Getty Images
Givenchy had
faux facial piercings
; Chanel did stick barrettes. But the most practical above-the-neck accessory from Paris Fashion Week has to be the protective face masks that models (and guests!) wore for the A.F. Vandevorst show. There, the masks served a utilitarian purpose: to protect models and showgoers from inhaling the white paint from an artist's spray gun as he painted the all-black clothes. But even if you're not posing as a human graffiti wall in an avant-garde Belgian runway show, the face mask makes a useful accessory.
In Asia, particularly Japan where the trend started, masks that cover the nose and mouth are a common sight. According to
this article
, people in Japan have been wearing masks in public since the early 20th century, when flu pandemics and an earthquake that caused massive fires made breathing a threat to general health. But today, the masks are both a wellness product and a style statement. Japanese drugstores sell different versions designed for various purposes: mentholated masks for cold relief, pollen filtering versions to reduce allergy symptoms, strawberry-scented masks for, well, making the world smell like strawberries.
Some people wear masks because they like the way they look, which is why you'll find
printed
and colored options, too. Others wear them for anonymity and to avoid interaction, or because they aren't wearing makeup and don't want to be seen — like the equivalent of the giant sunglasses favored by celebrities in airports.
Personally, I'm all for making masks happen here, too. Pair them with earbuds to ward off crazies on your subway commute! Use them to thwart sneezing attacks as you walk through the park! Never again worry about showing your "woke up like this" face to the world! The possibilities are endless. Who's with me? Here's a cool
black face mask five-pack you can buy online
. 
Keywords
Get the latest beauty news and inspiration!
Sign up for our newsletter to receive the latest from Beauty Blitz delivered straight to your inbox.