Sporty Barbie at Cushnie Et Ochs - NYFW Spring 2011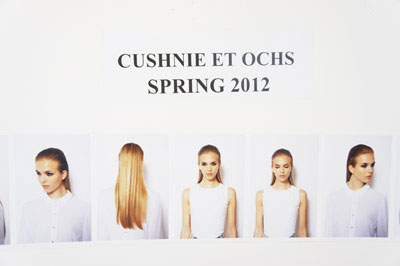 The beauty look chart backstage at the show.
Every girl's favorite doll was the inspiration behind the beauty look at Cushnie Et Ochs. But before you start picturing Hollywood curls and pink lipstick, note that this Barbie is a bit on the sporty side. "It's a modern take on a Barbie," said makeup artist Charlotte Tilbury for MAC. "The only real elements of Barbie are the sexy eye and lashes." Charlotte kept the skin dewy with extra shine on the cheekbones.She smudged a line of chocolate brown shadow underneath the eye, while slightly smudging black liner on the top. The lids of the eyes looked super-wet thanks to a mixture of Elizabeth Arden 8-Hour Cream and a MAC Cream Gloss. She finished the look with gelled eyebrows, black mascara and a nude lip.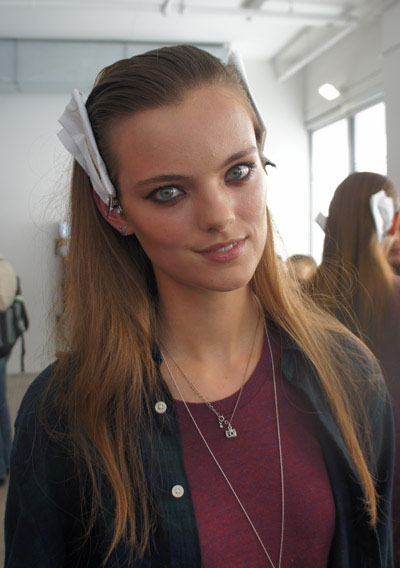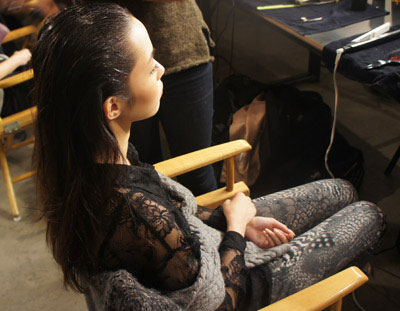 Over in the hair station, Pantene's Celebrity Stylist, Danilo created a straight, slicked back style inspired by the designing duo of Cushnie Et Ochs. "They knew what they wanted and I said 'I couldn't agree with you more," said Danilo. "Words I've been using a lot are 'modernity and clarity,'" he added. He started by dampening the hair with Pantene Aqua Light Spray Balm, which is slowly making its way from Europe to the States. "It's wicked, wicked and wicked," he adds, "I call it Holy Water." The spray gives the same effect as if you shampooed and conditioned your hair, without the shower. He blow dried and flat ironed the hair, smoothed the ends with Pantene Restore Beautiful Lengths Smoothing Balm, then swept it back with Pantene Fine Hair Style Spray Gel - he used the spray gel on  the part of the hair that needed to be slicked back. He also left the top part of the hair with a bit more volume and left the sides smooth. Danilo says you can get the same look at home by using a zig-zag comb headband to set your hair back. 
For the nails, Pattie Yankee for Dashing Diva was inspired by Barbie's mannequin hands with nails that match the color of the skin. "I created six different shades using Dashing Diva 'Mr. Right' - a neutral cream - and adding a touch of mineral makeup to match [the model's] skin tones," said Pattie, who mixed the makeup right into the bottle of polish. The extensions were filed to a pointy, stiletto shape and the color was left matte (no top coat). Absolutely dashing, if we may say so.
The six difference shades used on the nail extensions.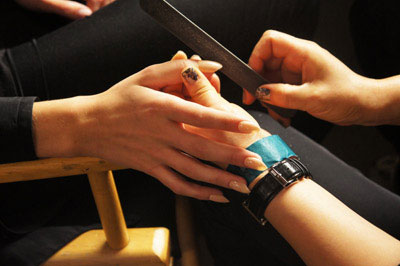 Keywords
Get the latest beauty news and inspiration!
Sign up for our newsletter to receive the latest from Beauty Blitz delivered straight to your inbox.