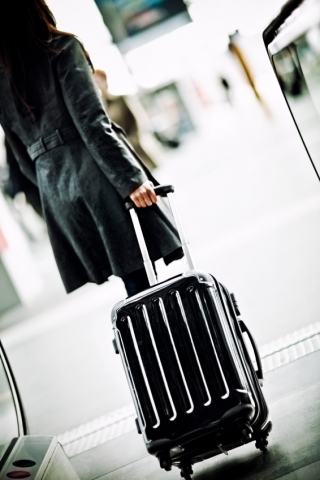 The life of a model may look glamorous (and let's be real, lots of it is!), but anyone who's been jet lagged knows that constant travel is far from relaxing. Still, when it's your job to look gorgeous, you have to learn how to take your beauty routine on the go. We've interviewed enough catwalkers to recognize the most-beloved items in their carry-ons - all necessities that we've eventually adopted in our decidely less fabulous travels, too. In preparation for summer vacation season, here are a few model-approved must-haves.
Cleanser
If there's one rule that every model swears by, it's this: wash your face before bed! There's not much worse for your skin than letting oil, sweat and makeup marinate in your pores overnight. Many models have learned to use the two-step process favored by makeup artists and estheticians. First, take off makeup with a cotton pad soaked in a gentle oil or remover, then wash with cleanser and water. The extra step ensures no residue remains on skin.  
Barely-There Makeup
You know how when you see photos of models before and after makeup, they always look better without layers of foundation, eye liner and mascara? That same principle applies to those of us who weren't born winning the genetic lottery - seriously. A warm-weather vacation is the perfect time to test the theory with a bit of lip and cheek stain, a light swipe of mascara and maybe some under-eye concealer - nothing else. You may just be inspired to make-under your day-to-day look. 
TLC for Hair
When stylists are constantly blow drying, flat ironing and brushing a model's hair, she has to learn to play defense. If your hair is similarly overworked, moisturizing shampoo and conditioner are a nonnegotiable addition to your suitcase, since hotel products are rarely nourishing. For styling, a natural oil can multitask as a frizz-fighting hydrating treatment as well as a flyaway tamer for dry hair. One runway superstar even told us she sleeps with her hair coated in olive oil to repair parched strands.
Body Beautifiers
Jet-setting supermodel Alessandra Ambrosio totes the Philips SatinPerfect epilator in her bag for trips near and far. "Since it's small and easy to use, I can take it in my carry-on anywhere around the world, so I'm always ready for photo shoots or just to have fun," the Brazilian beauty says. (Bonus: since an epilator removes hair from the root, you can use it to touch up between waxes without having your esthetician yell at you for shaving.) Also in her suitcase? Bikinis, of course. "You can never be too prepared for a spontaneous trip to the beach or some fun in the sun," she says. Words to live by!
Sponsored by Philips
Keywords
Get the latest beauty news and inspiration!
Sign up for our newsletter to receive the latest from Beauty Blitz delivered straight to your inbox.