Sleek Braids and Bobbi Brown's 5-Minute Party Look at Halston - NYFW Fall 2011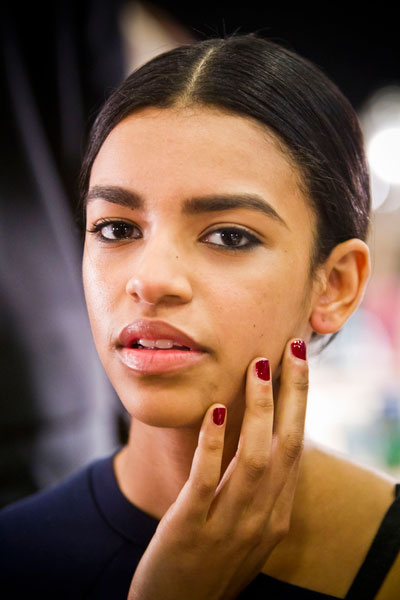 Big night after work? Here's how the Halston girl preps: 1. Slick hair into a ponytail; braid. 2. Add eyeliner, brows and mascara. 3. Throw on a fabulous jersey dress. 4. Dash out to the disco.
Makeup: Bobbi Brown for Bobbi Brown Cosmetics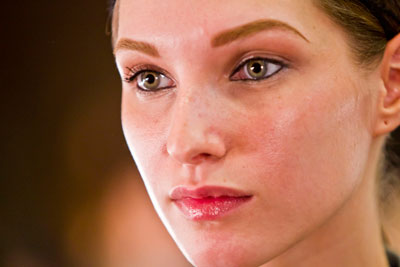 True to her signature style, Bobbi Brown created an ultra-simple look for Halston's presentation: black liner, full brows and "a couple coats of a very, very glamorous mascara" (that would be her own Extreme Party formula). Models wore only balm on their lips; Extra Face Oil stood in for highlighter on cheekbones.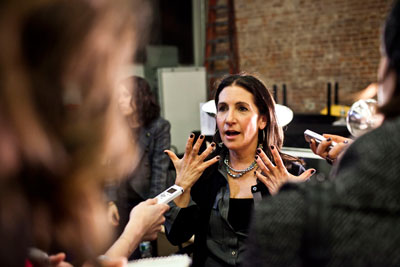 Bobbi Brown backstage.
The most important product here is the one you can't see in the photos: concealer. "To find the right concealer, you need to go one shade lighter than your foundation," Bobbi said. And don't underestimate the importance of a corrector: "I really like when someone looks bright under their eyes and corrector will correct any purple or black. Concealer will lighten up. And the two together is pretty magical. It's like Spanx for your face."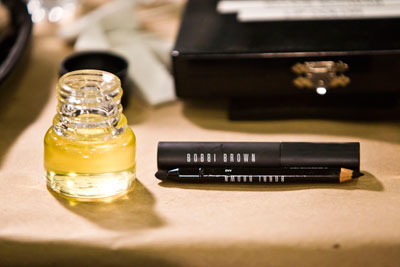 Bobbi's face oil, liner and mascara.
As for the black liner on the inner rim, Bobbi says it can make any eye shape look "more mysterious" in dark lighting or in photos. She recommends using a fat pencil. "Know it's going to be messy, and make sure that if you have concealer, it's not going to smudge together." Here's a fun fact: "The first time I ever did pencil on the inside of someone's eye was actually Keith Richards when I was a young makeup artist and did the Rolling Stones," Bobbi said.
Hair: Bob Recine for TIGI Catwalk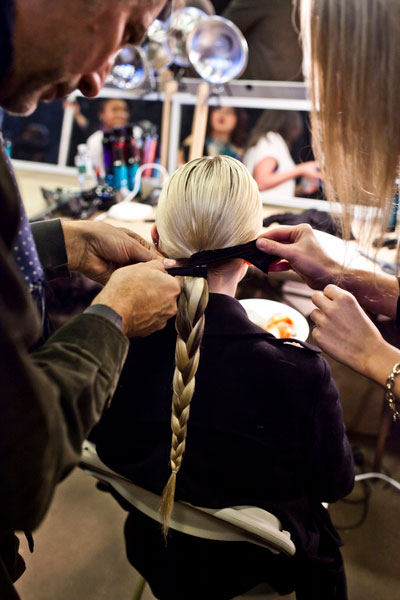 Lead hairstylist Bob Recine created a sleek, center-parted braid for the presentation: "It's very Halston - Halston never had 'tricky' hair," he explained. Stylists added extensions to shorter-haired models (a 15-20 minute process), then primed hair using a brush misted with a light-hold hairspray, TIGI Catwalk Sleek Mystique Fast Fixx Style Prep. According to Bob, the "old way" of spraying directly on locks works to "freeze" the hair, but the brush technique is a "more sophisticated" way to distribute product. Stylists pulled hair into a low ponytail, braided the tail and finished with a stronger-hold hairspray, TIGI Catwalk Your Highness Firm Hold Hairspray.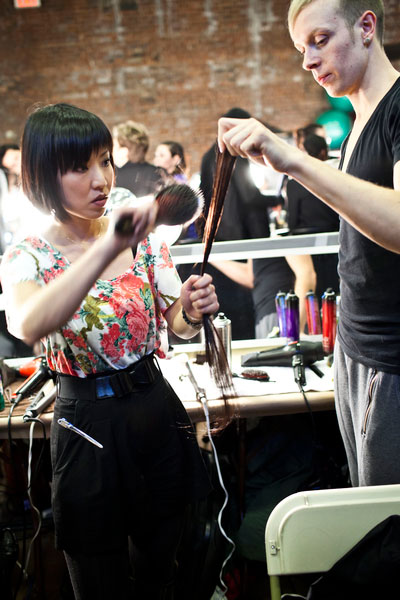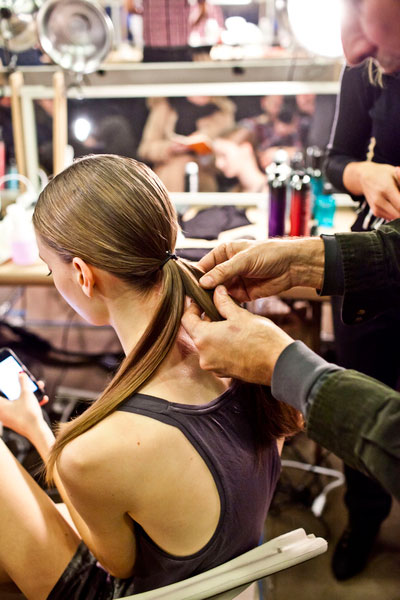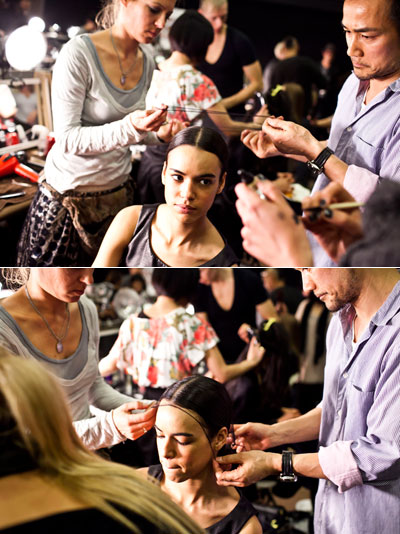 Stylists stretched hairnets over models' heads backstage to keep their strands sleek.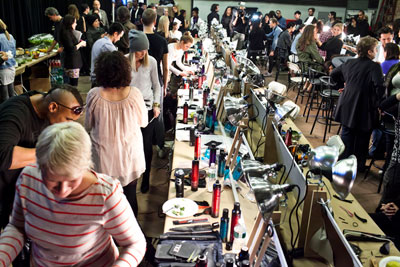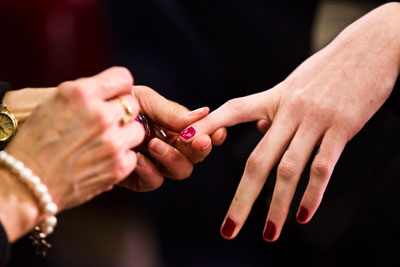 Nail artists from Elizabeth Arden Red Door Spa painted models' toes and fingers with Essie polish in Bordeaux.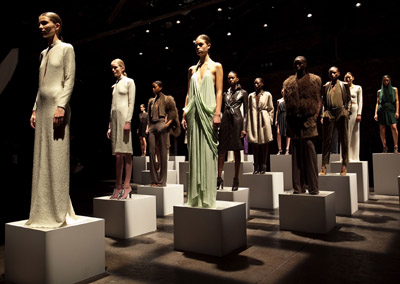 Halston's Fall 2011 presentation (photo: WireImage).
Backstage photos: Mat Szwajkos for Beauty Blitz
Keywords
Get the latest beauty news and inspiration!
Sign up for our newsletter to receive the latest from Beauty Blitz delivered straight to your inbox.