Sensitive Skin: New Lines from Burt's Bees + Perricone MD
According to various sources within the beauty industry, most women like to think of their skin as sensitive, even when it doesn't fall into that category. So it's no wonder that two big skin brands - Burt's Bees and Perricone MD - have launched their own sensitive skincare lines that address inflammation, the result of sensitive skin.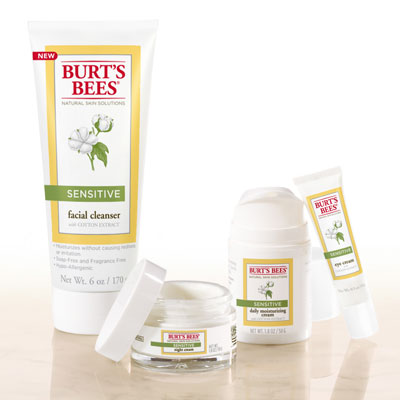 Burt's Bees may already be a go-to brand for sensitive skin sufferers, but the natural brand's Senstitive collection features four products to soothe irritable complexions. The key ingredient is cotton extract, which helps repair the skin's protective barrier.
One standout product is the Sensitive Facial Cleanser ($10), which is a creamy soap-free option that won't agitate the skin or strip it of its essential oils. The rest of the moisturizing products - Sensitive Daily Moisturizing Cream ($15), Sensitive Eye Cream ($15) and Sensitive Night Cream ($15) - all feature the reparative cotton extract along with aloe and rice extract for their calming abilities. All the products are fragrance-free and allergy-tested.
Perricone MD is known for antioxidant-rich products that fight aging, and now his Hypoallergenic Collection delivers those same anti-aging benefits for sensitive skin. Like the Burt's Bees collection, Perricone MD's line has four products: Hypoallergenic Cleanser ($39), Hypoallergenic Peptide Complex ($98), Hypoallergenic Nourishing Moisturizer ($75) and Hypoallergenic Firming Eye Cream ($65).
The key ingredients are olive polyphenols from the olive leaf and the olive fruit, which calm inflammation and have anti-aging benefits. For added benefits, the products are also formulated with peptides, ceramides and hyaluronic acid to firm, hydrate and lessen the appearance of wrinkles.
Keywords
Get the latest beauty news and inspiration!
Sign up for our newsletter to receive the latest from Beauty Blitz delivered straight to your inbox.