Schick iTunes Razor Packs
When it's really cold, the last thing you want to do is get out of bed. If you're anything like me, you fight with your alarm clock for several minutes, forcing you to skip significant parts of your morning routine.
One of the first things to go? Shaving. So it's pretty clever that Schick has started including a $10 iTunes credit with their disposable razors. You can wake up to your iTunes playlist, with enough time to do things like shave and put on makeup.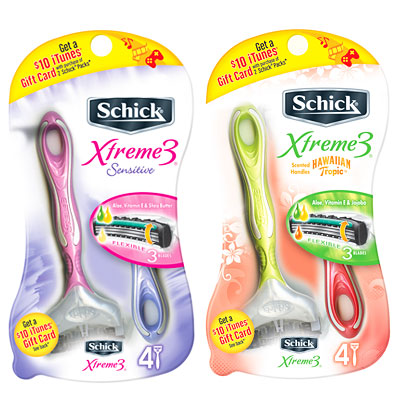 It really is much easier to jump out of bed to your favorite song - obnoxious standard alarm tones are probably a major cause of electronics abuse. All you have to do is pick up two Schick iTunes Razor Packs ($6.90), and visit http://schicktunes.com/ to redeem your $10 iTunes credit.
If you still have trouble waking up in the morning, try setting your alarm to the same tune as your ringtone - you'll think someone is calling you! After groggily dropping my phone on the floor too many times, I started using an iTunes Alarm Clock App on my Mac. Since it's on the other side on my room, I have to walk over to my desk to shut it off, and by the time I get there, I'm usually awake enough not to try to strangle my computer.
-Diana, Intern
Get the latest beauty news and inspiration!
Sign up for our newsletter to receive the latest from Beauty Blitz delivered straight to your inbox.