Russian Girls Going to the Opera at Christian Siriano Fall 2013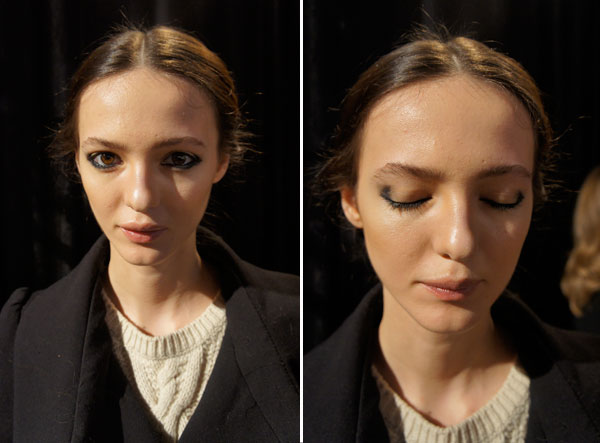 Christian Siriano's Fall 2013 collection was drop dead gorgeous. The minute the first model hit the runway it was magical. Nothing could have completed opulent brocades and dark fabrics like a fishtail "Heidi" braid and smoldering dark liner. The entire look was inspired by "Russian girls who are quite well off going to the Opera."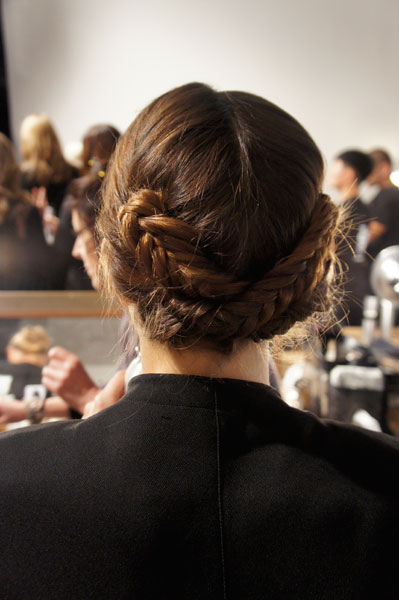 Antoinette Beenders for Aveda created the criss-crossing fishtail braids. "It's kind of a fun look. It's very clean in the front and kind of romantic in the back," she said. She got the look by prepping the hair with Aveda Pure Abundance Prep, a thickening spray that's "great for braiding because you don't want slippery hair when you're braiding. You need hair that has something to it, like a bit of grip." She sprayed the hair and blow-dried. Then, she parted the hair in the center and began braid two separate fishtails at the crown on each side. Once she ran out of hair, she continued to braid to the end. Finally, she crossed each braid and pinned it up. "It's a very simple technique, but still very effective," said Antoinette.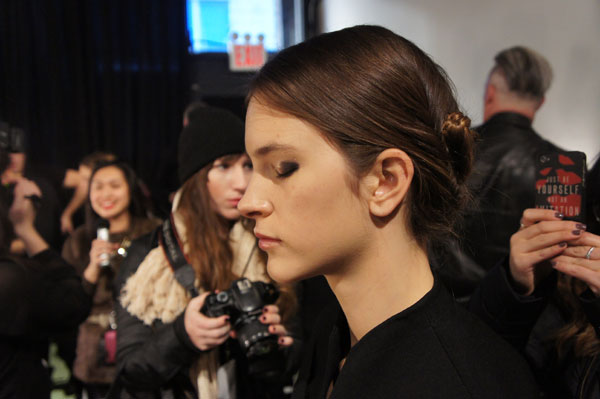 Polly Osmond for MAC Cosmetics also took to the collection for makeup inspiration. She opted for a very dark eye. "It's slightly heavier towards the outside. We used MAC Eye Kohl in Smolder on the inside of the eye and at the top of the inside," she said. Then we used Fluidline in Black Track as a fine liner on top. We feathered out the outer edges and drew little eyelashes underneath the eye." She left the lashes bare, and applied a mauvy nude lipstick and lots of gloss on the pout. "Apart from the eyes, everything is natural," she added.
Keywords
Get the latest beauty news and inspiration!
Sign up for our newsletter to receive the latest from Beauty Blitz delivered straight to your inbox.