Beauty Bucket List: I Tried Rose Gold Hair Color
Whether it's a statement hair color or a freaky-sounding skin treatment, there are certain beauty experiments we've always wanted to try, but for whatever reason haven't. In our Beauty Bucket List series, we cross these adventures off our life to do's — finally.
I started dying my hair in the eighth grade. I had a thing for red hair, so naturally that was my box color of choice. Ever since then, I've loved experimenting with hair color. Now that I think about it, I would put blue and purple hair mascara streaks in my hair for my ballroom dance competitions even before trying permanent dyes. I thought I was so cool. Twelve years and about a dozen hues later, I'm still painting my strands. 
After trying a variety of different blondes, browns and reds, I finally made a commitment to platinum. We've been going steady for a few years now and it's working out very well. There were a few occasions when I cheated on my almost-white hair with Manic Panic lavender and bubblegum pink. But once they washed out, we got back together again. Until now. When I saw this picture of
Sienna Miller's rose gold beach waves
, my mind was blown. It immediately skyrocketed to the top of my beauty bucket list. 
I wanted rose gold hair and I wanted it bad. But I also didn't want to abandon my platinum locks just yet. The answer ended up giving me the opportunity to kill two bucket list birds with one stone: ombré.
I've always wanted to get on the ombré bandwagon. But my hair already as light as it could get and I definitely didn't want to have my platinum strands fade into a darker color like black or brown. So I moved on. But when I realized I could do a rose gold ombré, it was like the heavens opening up. All that was left was finding the perfect salon and colorist to make it happen. 
That's where
Cutler Salon
and Color Education Director (and hair color goddess, in my opinion) Rachel Bodt came in. I knew I needed the best of the best, so being able to work with a lead colorist at one of the hottest salons in NYC was really a treat. I knew I was in good hands. 
Before I move on, let's just be clear on the color of rose gold. It's a shade of pink, but it's not the same pink as
Frenchie's hair color
accident at beauty school in
Grease
. It also does not look like the color of your rose gold Michael Kors watch. Rachel describes it as "very romantic and dusty with flecks of gold."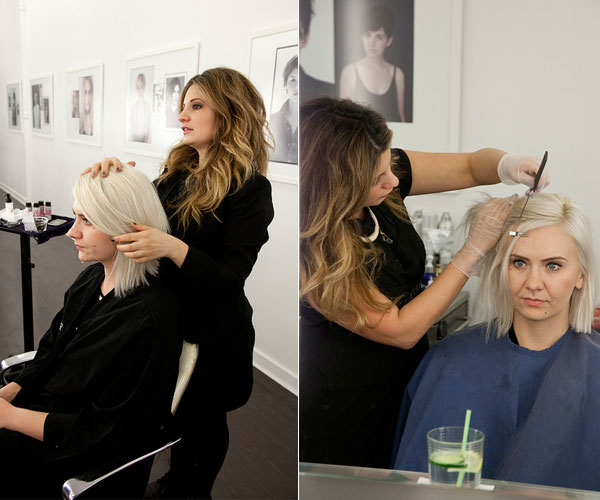 When I finally sat down in Rachel's chair, her genius expertise led me to try something completely different from what I had originally planned. At first, I was aiming towards a rose gold, dip-dyed ombré, where my ends would get the color and it would fade up into my platinum hair.  Then, Rachel suggested starting at the root (with the color being the darkest there), then having it fade down to the teensiest hint of rose gold at the tips.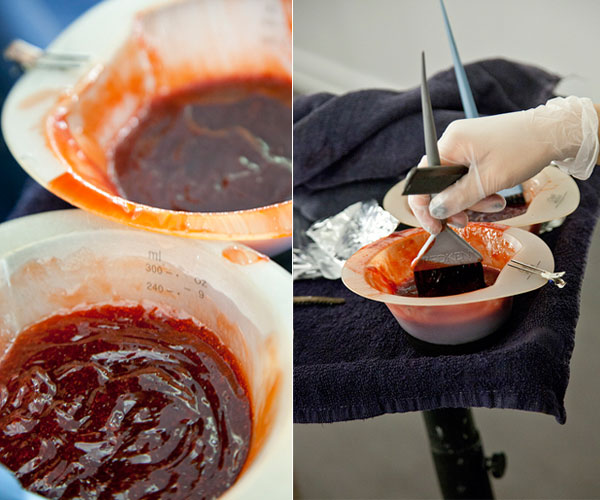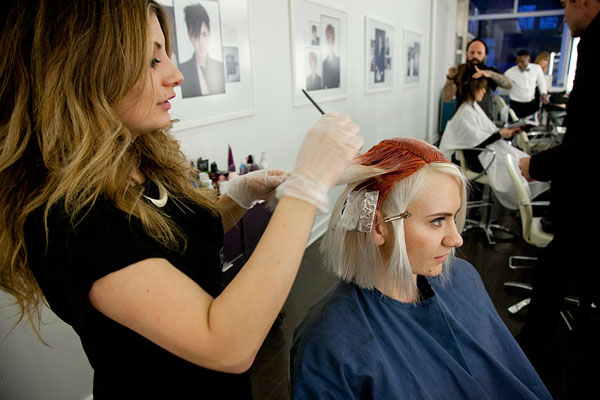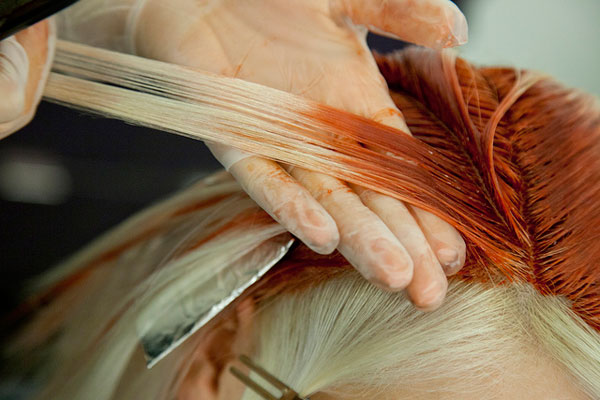 When Rachel came back with the mixed dye, I noticed it looked like a bowl of strawberry jelly. I'm used to just getting funky colors from Manic Panic, which looks the same in the jar as it does on your hair, so it scared me to see how dark and red the dye looked. Rachel's technique was really interesting. She began by applying color to the roots with a brush (it looked like my scalp was bleeding!). "You start out heavy and bring it down to the tips," she said. She used her hands to drag the color down to the ends. Once she finished the entire head, I hung out for about 15 minutes before rinsing (a record time compared to the 50 minutes bleaching my roots usually takes). But that wasn't the end of it. 
"You want it to be multi-dimensional rather than it looking like you just put pink in your hair," she explained. 
She applied more of the strawberry jelly-like dye at the sink and left it in for a minute; then she repeated the process once again. This added more depth to the color and gave my tips that extra hint of rose gold they needed. And since Rachel used a mix of permanent and semi-permanent dyes, it ensured that the color wasn't going to wash out during my next shampoo. 
I sat at that sink for about 10 minutes wondering what my hair looked like. The suspense was killing me! Every stylist kept coming up to the sink and saying how awesome it looked. I couldn't wait to get to a mirror. When I did, it was love at first sight. The super subtle, dreamy hue is literally the prettiest hair color I have ever seen on anyone. The photos don't even do it justice. Thank you, Rachel and Cutler Salon. You guys rule!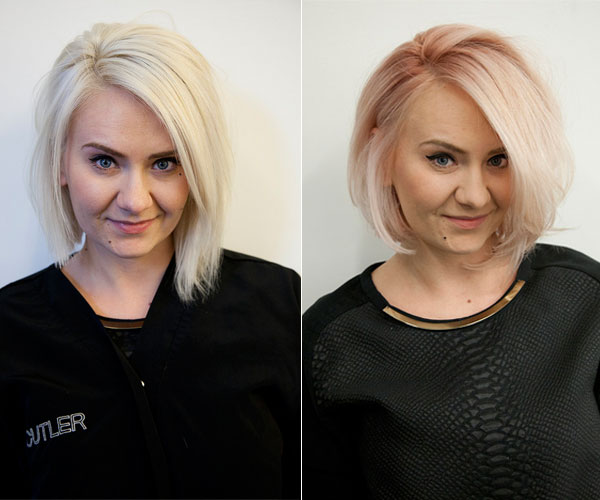 Now that that's check off my bucket list, it's on to the next one. Stay tuned!
Photos by: Taylor Cox
Keywords
Get the latest beauty news and inspiration!
Sign up for our newsletter to receive the latest from Beauty Blitz delivered straight to your inbox.