How Dragon's Blood is Saving My Skin This Summer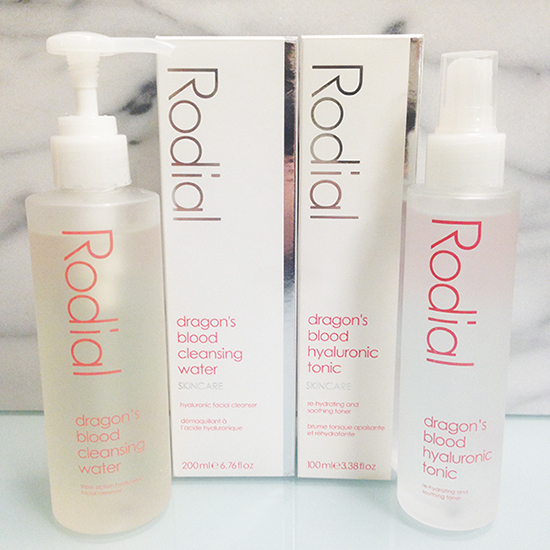 The first time I saw a skincare product with "dragon's blood" advertised on the packaging, I actually thought it was blood from a dragon – er, lizard? I have an imagination, so sue me. I mean, just think about all the crazy and random ingredients in certain skincare products (ahem,
eggshell membrane
) before you judge me.
Anyway, I quickly learned that the ingredient derives from the Sangre de Drago tree and is known to create an anti-inflammatory protective film on skin to fight environmental damage and soothe stressed out skin. I've used a few products made with dragon's blood and have been a fan of the popular ingredient since. 
Rodial is among the few brands that use dragon's blood in their products. Their collection features an
entire skincare regimen
with the ingredient as the headliner. Rodial recently added two products to the range, Dragon's Blood Cleansing Water and Hyaluronic Tonic. And just like that, my summer skincare regimen expanded. 
The
Dragon's Blood Cleansing Water
($36) is one of the most gentle facial cleansers I've ever tried. Just a few pumps onto a soft cotton pad (Try
these luxe ones
. They'll change your life.) applied onto the face and eyes will melt away makeup and refresh skin. Honestly, I almost want to pour it on my face, that's how awesome it feels. Aside from removing all traces of makeup and gross summer sweat, the cleansing water boasts a ton of skin benefits thanks to its trifecta of good-for-your-complexion ingredients: dragon's blood (obv), rose water (to soothe skin and reduce swelling) and vitamin B3 (to brighten and illuminate). The three work together to reduce inflammation and fine lines and wrinkles, stimulate cell regeneration, brighten, purify and just make skin look like a million bucks.   
As someone who can't get through the day without a
facial mist
in her bag, I'm obsessed with the
Dragon's Blood Hyaluronic Tonic
($42). It, too, features the same skincare trifecta as the cleansing water, with an added dose of goodness: hydrating hyaluronic acid. The refreshing mist is meant to be used after cleansing as part of your usual routine, but it also works great as an in-flight pick-me-up and makeup setting spray.  My dehydrated skin is a big fan, especially after a day at the pool. 
Keywords
Get the latest beauty news and inspiration!
Sign up for our newsletter to receive the latest from Beauty Blitz delivered straight to your inbox.