Red Door Spa's Facial with Hot Stone Massage
I'm feeling a little behind, considering that I just had my first (and completely amazing) experience at Elizabeth Arden's Red Door Spa location in Manhattan. To be quite frank, at first I sort of dismissed the Red Door Spa, mainly because I associated the Elizabeth Arden brand with my grandma's skincare and celebrity fragrances like Hilary Duff and Mariah Carey.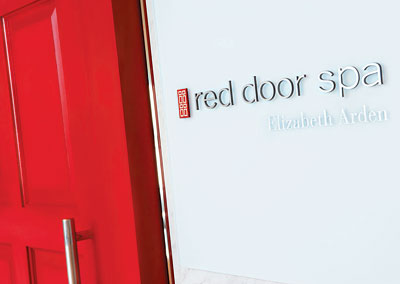 I'm glad I put my unnecessary prejudices aside and decided to try the Ultimate Arden Facial ($255). Considering the price and not to mention the name, I was expecting something more than just the ordinary. My appointment was with Claudia, and once I was lying in position, she placed a warming pillow on my belly, supposedly good for the body. First came the cleansing proceeded by a custom blend of exfoliants for my specific skin needs, extractions, healing and hydration. The main thing that set every step apart from any other facial I've experienced was the endless massage.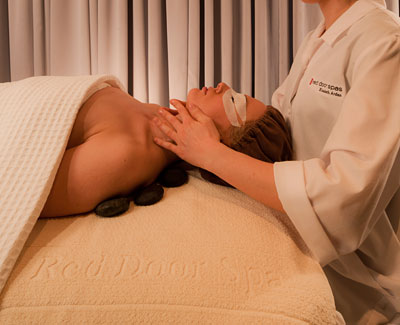 The main reason why you go to any spa is for the human touch, but most facials leave me wishing for a little more massage. The Ultimate Arden version is clearly all about the luxury of skincare paired with lots and lots of massage. From cleansing to applying masks and moisturizer, each step was just another excuse to have more hands on attention. And while I was waiting for my mask to set, Claudia gave me a zen-inducing hot stone massage all over my neck, chest, arms and upper back. I always dread much-needed extractions, but Claudia was gentle and she also used a high-frequency device afterward to kill any remaining bacteria. And to really soothe my post-extraction complexion, she gave me a cooling facial treatment, which completely made up for any prior discomfort. Other nice additions included the hand treatment, which consisted of a massage and warming mitts to really soften my palms, and the scalp massage, which rivaled some of the best shampoo experiences I've ever had.
Once I was dressed and out of the treatment room, the Ultimate Arden Facial wasn't quite over. I was escorted to the makeup station for a little touch up post-treatment. And while getting your makeup done is a nice bonus, the real treat was getting my very own vial of Elizabeth Arden Custom Color Foundation. A device is held up to your face and it takes a couple measurements of your skintone, then you choose your coverage - sheer, medium or full. You also pick the finish - matte or natural. Once the computer has your selections, out comes a deluxe sample size of your custom shade for you to take home, plus you can buy a full size jar for $59.
I will be making return trips to the Elizabeth Arden Red Door Spa, which has everything from facials and body treatments to massage therapy and even salon services like hair, makeup and nails, plus waxing and threading. And with 31 locations throughout the country, everyone has a reason to get in on this amazingness.
Keywords
Get the latest beauty news and inspiration!
Sign up for our newsletter to receive the latest from Beauty Blitz delivered straight to your inbox.