Recreate The Sleek Ponytails From Stella McCartney Fall 2013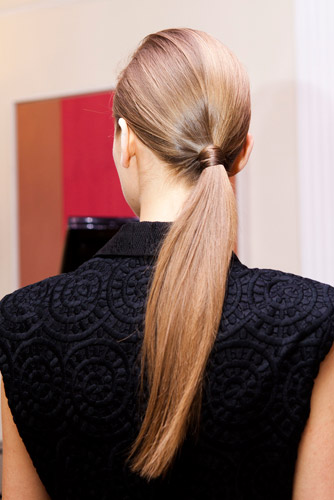 Sorry Cannes, we have our eyes on Stella McCartney's Fall 2013 show this week. While all the stars are rubbing elbows in France, Antoinette Beenders for Aveda was backstage at Stella McCartney's Fall 2013 show in Tokyo creating the sleekest ponytail we've ever seen. Antoinette styled the models with an "effortless modern tail" that isn't really isn't as easy as it seems.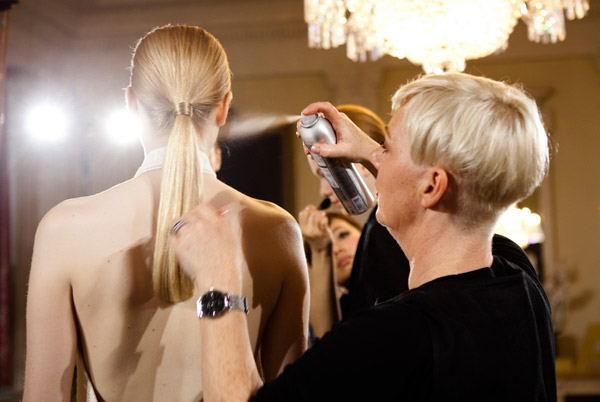 Antoinette explains, "A beautiful, groomed ponytail may seem simple, but to look effortless takes creative thinking and a strategic use of high performance products to achieve a natural, polished look. Stella was looking for a slicker look than what she normally goes for to match the beautifully tailored masculine/feminine cut of this stunning collection. Our models had a variety of global hair textures, from fine to curly and course, so achieving sleek isn't a given. The beauty is that with a little styling help, the polished look can become anyone's regardless of their hair type of length. It's all about products + technique = results."
Here is a step-by-step on how to get the look at home:
Step 1: "Prep the hair with Aveda Damage Remedy Daily Hair Repair ($26) to protect the hair from the heat of hairdryers and flat irons. Use Aveda Smooth Infusion Style Prep ($24) on top to smooth hair and help tackle humidity."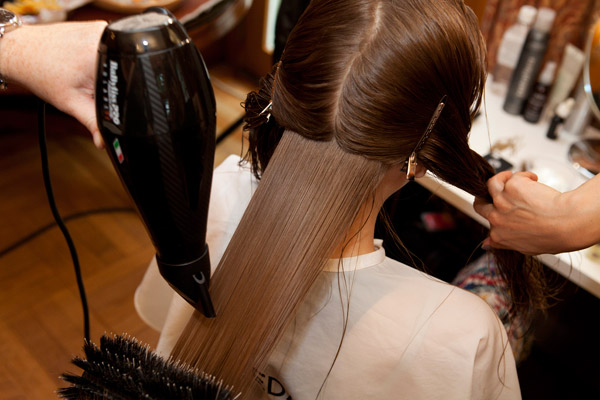 Step 2: "Section hair starting from the back and blow-dry straight with a large round brush brushing the hair into the same direction at the nape of the neck."
Step 3: "Use the flat iron to smooth the hair and ends for perfectly polished straight hair, applying Aveda Air Control Hair Spray ($24) to each section of hair for a strong but barely-there hold."
Step 4: "Once hair is dry, pull hair into a tail at the nape of neck using an elastic to secure hold. Then take a narrow section of hair and wrap around the band, securing by hair pins underneath the base of the tail."
Step 5: "Section the tail and run through for a final time with the flat iron to smooth our any final kinks and ensure all day straightness." 
Step 6: "Finish with a misting of Aveda Air Control Hair Spray ($24) for neutral, textured, transparent, yet polished hold."
And, voila! You've got yourself a Stella McCartney approved style that's perfect all year round. 
Keywords
Get the latest beauty news and inspiration!
Sign up for our newsletter to receive the latest from Beauty Blitz delivered straight to your inbox.