Pick of the Week: Fornasetti Flora Candle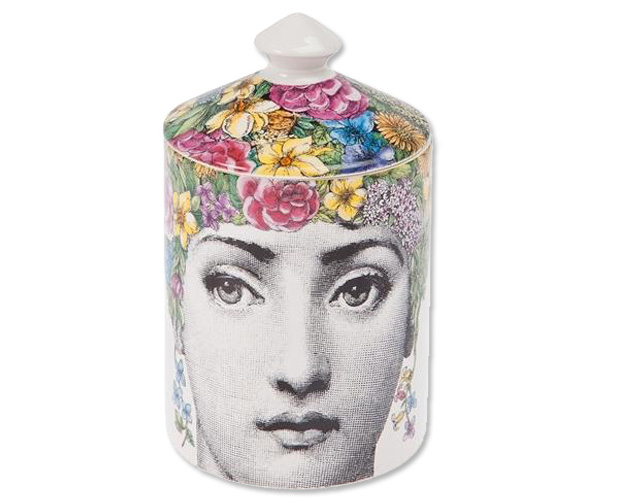 Can you fall in love with a face? Piero Fornasetti (1913 - 1988) did. Reading a magazine, he came across an engraving of the 19th century opera singer Lina Cavalieri. From that moment on, the Milanese artist's path was clear. "What inspired me to create more than 500 variations on the face of a woman?" he said. "I don't know. I began to make them and I never stopped." Fornasetti fabricated tableware, fabrics, and furniture with surreal themes and variations on Lina's face. His son Barnaba continues the "Tema e Variazioni" tradition today. If you're not interested in springing for a $27,000 Fornasetti cabinet or a $1,500 umbrella stand, fear not. You can have your own Lina as a fertility goddess on a ceramic candle pot.
The candle,
"Flora di Fornasetti"
is the creation of master perfumer Emmanuel Philip. The scent is a feminine yet woodsy mix of tuberose, jasmine and ivy. The reusable ceramic Lina pot (mine is destined for bath powder and a Guerlain swan's-down puff) is imprinted with the world-famous Fornasetti logo on the bottom. This guarantees that it's an original, verified Fornasetti, hand-crafted in Italy by the centuries-old Ceramiche Dal Pra. Here is a piece of fine art you can use every day. Its beauty and wit will make you smile as ineffably as Lina every time you lay eyes on it.
- by Patricia Volk, author of the forth-coming
SHOCKED: My Mother, Schiaparelli, and Me
 (Knopf 2013)
Keywords
Get the latest beauty news and inspiration!
Sign up for our newsletter to receive the latest from Beauty Blitz delivered straight to your inbox.