Pick of The Week: Clear Scalp & Hair Therapy Shampoo & Conditioner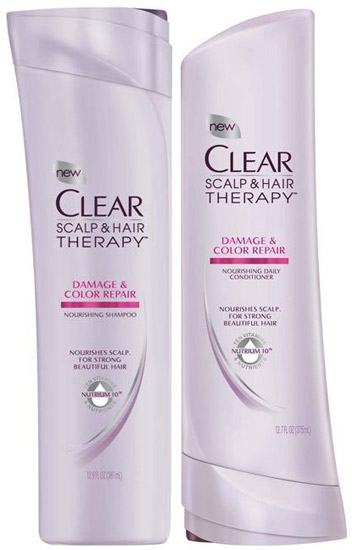 Ever since I started working in beauty, I must have tried a zillion different shampoos and conditioners. And there were plenty way before. Here at Beauty Blitz, we get sent so many different varieties of hair cleansers and treatments to try. Although there isn't really anything bad I can say about them, for some reason, my hair wasn't convinced. You see, my almost-white strands don't always get the TLC they deserve. First of all, I hate washing my hair for the sole reason of having to style it right after. I can't just let it air dry. So, when it comes to washing, it's shampoo, conditioner, and done! But considering that I have to bleach it (hardcore) every couple of weeks, its dry and brittle to the point where I've had extreme (and clearly visible) breakage. Let's just say my "bangs" are not supposed to be there. 
When I first saw Clear Scalp & Hair Therapy's commercials with the absolutely stunning Heidi Klum, I thought it was too good to be true. I hate to say it, but I was even questioning why Heidi would promote it? I've never heard of the brand before and it wasn't affiliated with the brands we've all come to love. Now, I regret ever having negative thoughts about Heidi or this brand. Obviously, the woman knew what she was doing when she signed on with Clear. The shampoo and conditioner are miracle products. My hair has never looked and felt better. When they said "stronger, more beautiful hair in 7 days," they we're kidding! My hair is addicted to the Damage & Color Repair Nourishing formula. It not only made my strands the healthiest they've ever been, but it protects my hair color and keeps it from turning my platinum blonde into a hideous yellow (as many cleansers do). Even my mom has joined the Clear Scapy & Hair Therapy bandwagon. I made her try it and, for once, she was raving (she never raves about shampoo and conditioner). 
Clear Scalp & Hair Therapy comes in eight different formulas for all hair types. There is even a line for men. Whether you need something to control dandruff or an extra boost of volume, Clear has got you covered. Plus, at under $15 for the set, there's no question that we can't get get good quality products for less. 
Keywords
Get the latest beauty news and inspiration!
Sign up for our newsletter to receive the latest from Beauty Blitz delivered straight to your inbox.