The Perfect Pair: Stiletto Mani & Frederic Malle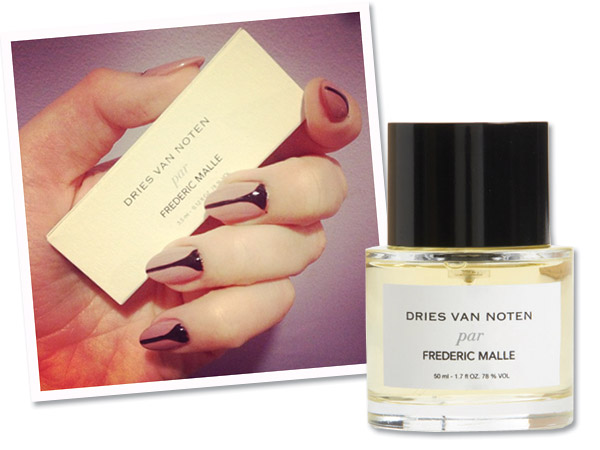 A new month calls for a beauty change in my book. But I'm not talking about a drastic hair change. There are plenty of ways to try something new without going that route. This month, I decided to cave in and finally get in on the stiletto nail trend. Rihanna and Lady Gaga just rock is so well! So I got my own set of kitty claws this past weekend and paired my new manicure with a complementing fragrance: Dries Van Noten par Frederic Malle. In my opinion, the two just go so well together. The nails are elegant, yet sexy at the same time, while the fragrance gives off a timeless but modern aroma. They both make me feel like a starlet!
Dries Van Noten par Frederic Malle is the first addition to a new collection of scents called Perfume Portrait by Frederic Malle. The collection is "designed to served as a collaborative effort with experts from artistic fields such as fashion, photography and film," explains the press. I can't think of a better first edition that Dries Van Noten. The fragrance features notes of sandalwood, vanilla, patchouli, musk, bergamot and jasmine for an oriental twist on a classic perfume. 
As for my new nails, they're actually gel extensions topped off with a nude gel polish. I got them done at a sweet little spot in New Jersey called Pinky Pinky Nails. I chose a light colored polish so I can add my own nail art. The best part is that I can remove the nail art and swap it for something new without having to repaint my nails! The minute I got home from the nail salon, I grabbed a black striper polish and added the sleek stiletto design. All it takes is a steady hand! You like? 
You can get Dries Van Noten par Frederic Malle exclusively at Barney's New York and barneys.com. (50ml Spray: $185; 100 ml Spray: $265) 
Keywords
Get the latest beauty news and inspiration!
Sign up for our newsletter to receive the latest from Beauty Blitz delivered straight to your inbox.