Pantene Names Olympic Swimmer New Brand Ambassador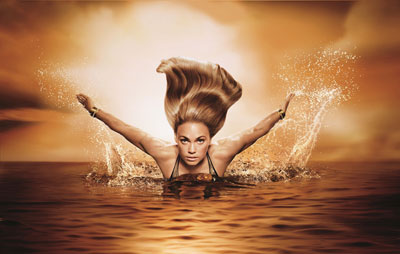 After attempting (and failing miserably) to be a varsity swimmer during my freshman year of high school, I know from experience that chlorine and swim caps are dreadful for your hair. So it came as a surprise to me that Pantene had chosen Olympic swimmer Natalie Coughlin as their new U.S. brand ambassador. While Natalie has proved her prowess in the pool by becoming the first American female athlete to win six medals in a single year's Olympic Games, would her hair be worthy of a Pantene campaign? After meeting the swimmer in person, I can honestly say that the answer is yes!
"I spend four to five hours a day in the pool. So, without Pantene, I couldn't have nice, long, glamorous hair," said Natalie, whose routine involves using a gentle shampoo and combing a thick conditioner through her hair, which she then leaves in for a few minutes (her go-to products are part of a new line Pantene is launching this summer).
Natalie also stays away from anti-chlorine shampoos.
"Anti-chlorine shampoos are the worst," she adds. "They create this vicious cycle where they strip the hair of moisture, damage it even more and just help soak up more chlorine the next time you get into the pool."
Natalie isn't the only female athlete getting love from Pantene. The brand is also sponsoring ten female athletes from around the world. We're sure to see some great hair at this year's London Olympic Games.
Keywords
Get the latest beauty news and inspiration!
Sign up for our newsletter to receive the latest from Beauty Blitz delivered straight to your inbox.