#SummerProblems: Pale Face, Tan Body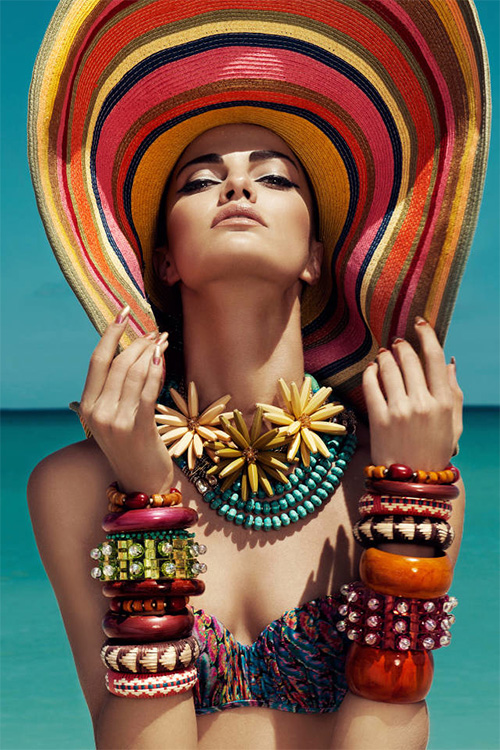 An unintended side effect of that glamorous beach hat. Photo: Barbara Fialho photographed by Danny Cardozo, Harper's Bazaar Mexico, July 2013.
Most of us are much more diligent about applying SPF above the neck than below it. While this is good news for our forever young complexions, it can also lead to the dreaded "bald eagle" effect — a face that's quite a few shades lighter than the body. And two-toned skin can look especially noticeable in photos, since a camera's flash (or even certain Instagram filters) tend to make the face look paler anyway.
But none of this means you should to expose your mug to damaging UV rays; there are better ways to get even.
One option is to use a self-tanner designed specifically for the face
, says
St. Tropez
Skin Finishing Expert Sophie Evans. She recommends the brand's
Bronzing Lotion Face
($30), which "will not clog the pores and contains anti-aging properties." (We've narrowed down some other great options
here
.) She advises, "Always make sure to apply around the eyes and lips, remove self tan from the eyebrows with a Q-tip to avoid staining, and go as close to the hairline as possible. Blend the tan around with a little moisturizer if hair is very fair, heavily bleached or porous." You'll need to reapply every few days, since tanner doesn't last as long on the face thanks to cleansing and exfoliating. 
If you'd rather not fake bake your face, strategic makeup is also an option. Your approach will depend on how much of a difference there is between the shade of your face and the shade of your body, says makeup artist
Desirae Cherman
. "If a client is just a shade or so off, I will just
use a bronzer to dust over all the spots where the sun would naturally hit the face.
Forehead, nose, cheekbones, jawline and chin," she says.  "If someone is way off, I'll start with a darker foundation color all over, bringing it down the neck. It's super important to get under the chin and jaw area that never sees the sun. This way when you're darkening the face you don't see a disconnect or line." Don't have a darker foundation shade in your makeup bag? You can mix a bit of bronzer in with your makeup in a pinch.
More #SummerProblems:
Keywords
Get the latest beauty news and inspiration!
Sign up for our newsletter to receive the latest from Beauty Blitz delivered straight to your inbox.