5 Overnight Products That Will Make You Sing "I Woke Up Like This"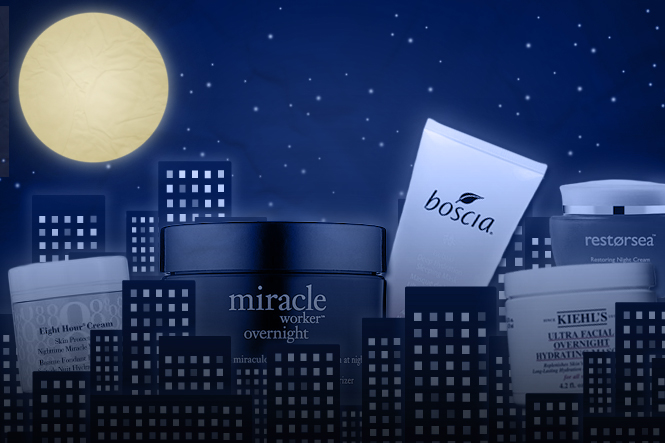 Bey sang it best, but you're going to be humming her song "
Flawless
" all morning long after trying these overnight skincare products. There's no better time to treat your skin than while catching some Zzz's. Think about it: You can apply all the oils, serums and masks you want without worrying about how they'll look under your makeup. By the time I'm through applying all of my nighttime products, my husband wants nothing to do with me and my greased up face. Hey, I wake up glowing, so that's really all that matters.
Anyway, with the harsh winter the East Coast has been getting, I've been especially fond of overnight hydrating treatments so I can go about my day in the polar vortex comfortably. I'm not one to complain about the cold (often), as long as my skin gets the TLC it needs and I can wear my sweaters under my coats without feeling like
Ralphie's little brother Randy in A Christmas Story
 ("I can't put my arms down!"). 
Here are five nighttime masks and moisturizers that make you more gorgeous come morning. You're welcome. 
It's not cream, but it's not gel either. The formula of this Ultra Facial Overnight Hydrating Mask is kind of in-between, but it feels SO good on your skin. It's like a tall glass of water for your complexion. The star ingredient is with Ophiopogon Japonicus Extract (also called "Fountain Plant" because of its drought-resistant properties), which helps hydration levels skyrocket to the point of no return. You wake up with a complexion so dewy, the best makeup artists at Fashion Week can't even duplicate it. 
Restorsea is best known for their luxe formulas made with enzymes released during a baby salmon's hatching process. It sounds weird, but that enzyme fights fine lines and wrinkles, makes skin strong like bull and hydrates like no other. The rich cream works while your skin is repairing itself at night. Not only do you wake up with a deeply hydrated complexion, but a younger-looking one at that.
When it comes to anti-aging, Philosophy's Miracle Worker collection is top notch. The newest addition is an overnight version of their popular Miracle Worker Anti-Aging Moisturizer. It's made with this marine algae extract that works alongside powerful peptides and lots and lots of vitamin C to fight age-accelerating proteins, while locking in moisture and leaving you with silky skin in the AM. After all, dehydrated skin equals wrinkles and no one wants that. 
What happens when you apply a botanical blend of Japanese ingredients onto your skin and go to sleep? You wake up with the most supple skin ever. The super-light formula (made up of tsubaki oil, wakame and rice bran) sinks into skin seconds after you apply and works all night to hydrate, smooth and firm. Bonus: an amino acid called serine helps lock in moisture for maximum nighttime hydration. Japan just does skincare better.
Here's another product that utilizes the skin's nightly restorative process. Elizabeth Arden just launched a product that ups the ante on the brand's
cult favorite Eight Hour Cream
. The nighttime version promises intense hydration to rebalance and restore your skin while you snooze. If you're a fan of the original, I promise you will obsess over this. With moisturizing ingredients like petrolatum and shea butter, you just can't go wrong. 
Image design by: Taylor Cox.
Keywords
Get the latest beauty news and inspiration!
Sign up for our newsletter to receive the latest from Beauty Blitz delivered straight to your inbox.