Olivia Wilde: "I Am Never Going to Look Like That Victoria's Secret Model."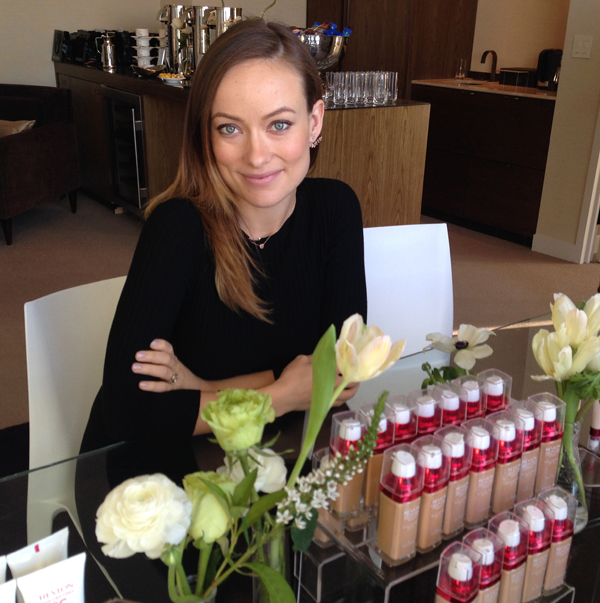 It's hard not to want to pick the brain of someone as naturally beautiful as Olivia Wilde. I mean, just look at the photo above, which I took with my iPhone right after speaking to the mom-to-be and face of Revlon. Her hair and makeup were simple, yet she looked flawless (#nofilter). It's rare to see a celebrity who doesn't look like they have a glam squad on speed dial (I'm looking at you, Kardashians). No wonder both my guy and girl friends have a crush on her. Check out my interview with Olivia below and find out why looking like a Victoria's Secret model is not her thing, the beauty advice she got from Halle Berry and more. 
On maintaining her flawless complexion… 
"No one has a perfect complexion; makeup certainly helps. And it doesn't mean slathering the foundation. It's about finding the things that work for you, for your color, using the concealer properly. And in terms of taking care of your skin (texture, elasticity, hydration), it's just about cleaning it well, moisturizing it well, exfoliating it once in a while, not tanning it. Just being conscious about those things. My routine is very simple. I just wash and moisturize, and exfoliate once a week. Not much more. I'm not great about remembering all the other creams you need. I keep it pretty simple. 
"It's funny because that was the first questions I asked Halle [Berry] when we did the commercial. I was like, 'What is your secret? Tell me, tell me, tell me!' She said, 'just take care of yourself.' It's so inspiring to see someone who has embraced getting older and done it so gracefully. It's how we all want to do it."
On tanning… 
"My mom was always good about encouraging us not to tan. She grew up in California and tanned the way they did in the '60s with the olive oil. She, from an early age, told my sister and I, 'You guys are white, you're always going to be white.' My dad's incredibly pale, so we all have see through skin. 'Just don't try to burn through it, you'll regret it later.' And of course I did go out in the sun and realize I don't get that tan. I'm never going to look like that Victoria's Secret model, spray-tanned look. So why not fake it? I'd rather maintain my skin. If you wanted to be bronze, put on some bronzer."
Her Revlon must-haves… 
"I'm more comfortable with eyes and eye makeup. I'm better at it. I love the
ColorStay
products because they're just actually effective and convenient for me to have something that I don't have to touch up
—
because I am not the girl who remembers to touch up her makeup. From the new Age-Defying collection, I really like the CC Cream [out in January]. Not only because it does what it says it does, but it kind of perfects your skin and has a SPF of 30, which is really unusual and really great. I use something from every part of every line. It's fun. It should be fun. You want to take the pressure out of beauty and make it about self-expression, as opposed to pressure."
On looks she's dying to try...
"You know that Twiggy look with the liner in the crease and on the lid? I wish I could pull that off. I think a bold eyeliner look is really fun. I really enjoyed seeing all the punk eye makeup everybody had at the
Met Ball
this year. Emily Blunt had this really cool orange eye makeup that I thought was awesome. It was super inspiring."
On tricks she's picked up from the industry...
"Little secrets like using a
Beauty Blender
sponge to put on makeup and dampening it before you use it to get that dewiness. That really kind of blew my mind.
Gucci Westman
does this thing that I think is really great, where she adds freckles. She uses the ColorStay pencil in brown."
On exercising for movie roles..  
"Depending on what the project is, I change it up. I'm a fan of weight training. I've learned a lot about weight training when we were training for Tron. I got super-duper ripped. And before that, I've never had serious muscles. And I learned about how you could use small weights to shape your muscles. And Pilates, yoga and spinning are things that I kind of enjoy."
"You know, it's interesting. Being pregnant, I've learned so much about how you respond to your body and take care of your body. It's kind of the only time in our lives where we think about our bodies and are conscious in a thoughtful way. Almost because it's not for us. We're thinking about a little person. We think, 'What am I putting on my skin? What am I eating? How am I working out?'"
Her big eyebrow oops of the 90s...
"I fell right into the trap of the early '90s
—
trying desperately to look like Kate Moss
—
and just took them all off. Everybody with a brain told me not to. My family has really great, thick eyebrows. They are very pointy and I took them all down to nothing. And I'm paying for it now."
On her charity work... 
"We just launched a company called
Conscious Commerce
, which is all about celebrating companies that are either using local manufacturing, fair trade, using products that are sustainable. Basically trying to prove that you can live in the modern world, and use all the creature comforts of the modern world, without contributing to its decline. Through that, I'm working with tons of great, locally-run, small organizations that are working on everything from education, healthcare, microfinance, animal cruelty. We have everything; it's been really fun."
What anti-aging means to her...
"I think it's a misnomer. I think if we see it as staving off this inevitable tidal wave of doom, it will be something we fear, something we're fighting against. I think it's actually something you embrace and see as an opportunity to practice self-care. You're not going to have perfectly even skin tone, it's just not going to happen. So, instead of seeing it as, 'Oh no, I'm aging! I have to anti-age!', embrace aging, but use things that are going to help you age gracefully, gradually. I think I've learned that from women in my life who have done it right. I've taken cues from them. And actually from Halle. Talking to her was
super inspiring. I think we just have to slightly change our perspective about it.
"People are afraid of turning 30. Which is so absurd. That is the good part of life. Now you know yourself, you know something, enjoy it. I call it the 'cut the bullshit and go be awesome' stage."
Keywords
Get the latest beauty news and inspiration!
Sign up for our newsletter to receive the latest from Beauty Blitz delivered straight to your inbox.