A Nail Art Manicure You Can Do at Your Desk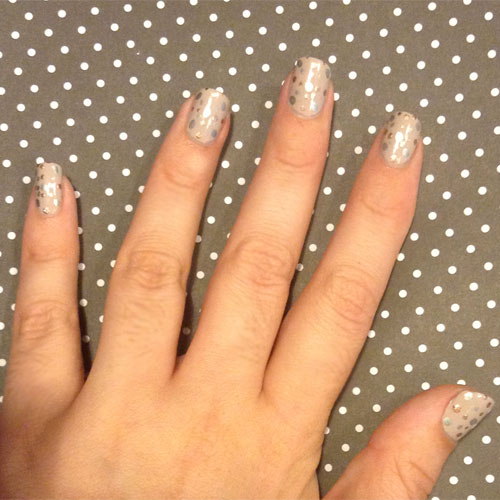 Whether you need a manicure refresher before a lunch meeting or just have time to kill while the office wifi is down, sometimes it's necessary to do a little nail art at work. And thankfully, if you have nail polish on hand, everything else you need can be found in the office supply cabinet. 
Reinforcements can help you make the perfect half moon; scotch tape is ideal for creating straight edges and shielding your cuticles.  Post-its or business cards work great as impromptu palettes, and everything from pens to paper clips can be used for making dots. 
For my desk-friendly design I chose to create a "dotticure" using a metallic silver Sharpie, an old pen, and a few paper clips. Here's how I did it.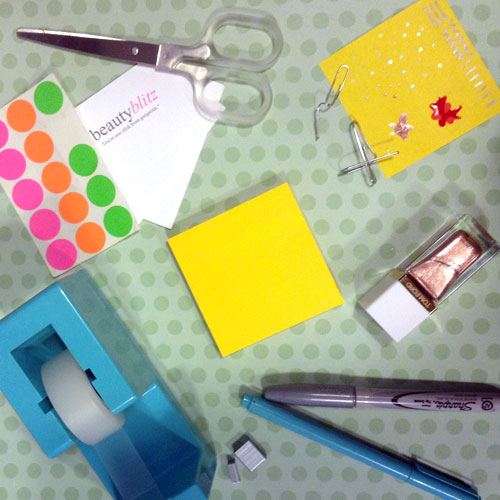 2. Using the silver Sharpie, make five dots on each nail in an X pattern. I wanted these dots to be the largest, so I pressed down harder on the sharpie. Next, I added a few smaller silver dots around the center-most dot, using less pressure. 
3. Use the end of a paper clip dipped in a copper-colored polish (I used
Tom Ford Incandescent
) to create smaller dots. To finish things off, try dipping the tip of a pen into polish to add a few final dots of a different size.
4. Top off your design with a quick clear coat, otherwise the Sharpie will rub off before anyone can appreciate your mani. 
Get the latest beauty news and inspiration!
Sign up for our newsletter to receive the latest from Beauty Blitz delivered straight to your inbox.