Ode to Essie: Love, Lacquer & What I Wore
Last week, Essie sent our office this awe-inspiring professional salon rack, fully loaded with every nail polish shade in the collection. Seeing the glossy rainbow sent me down a memory lane of manicures. To honor my beloved friend Essie Weingarten, the founder of Essie Cosmsetics, which is now owned by L'Oréal, I decided to write an ode to the queen of color. 
There once was a girl from Manhattan
Whose mother liked mani relaxin'.
When she thought it was time
To make her girl shine
They went to the salon for some chattin'.
At her first, the girl Polly just smiled,
While fastidious hand groomers filed.
Colors kept her head spinning,
A whimsical day for this child.
The visit was such a great treat
After years, mom and daughter still meet.
Their shades often will switch
It's so tough picking which
And come spring, they get pedis for feet.
"Pick a color!" the manager greets
Before ushering back to the fleets.
Oh, this break they can't miss
For the prom, she chose
French
. Must we dwell?
During college she tried
A spectrum so wide
But always went back to her belles.
She met Essie while working at
InStyle
.
Instantly felt like she'd known her a long while.
Such good friends they grew fast
And their guys had a blast
Having beach weekends chock full of smiles. 
Those square bottles played a big role
In her mom and aunt's nail protocol.
Redford Red they would wear,
'Til the day of despair
When it stopped being made, bless its soul. 
But guess what? That sweet Essie swooped in
Sending warehouse stash to all the kin. 
Making all their days bright
Rousing so much delight
Polly's mom and aunt savor and grin.
At the launch party for Beauty Blitz
Polly sifted through all the top hits
A sleek burgundy glow,
'Cause red wine for your nails always fits.
One time Essie invented a hue
After Mark proposed marriage, it's true.
Named Just Say Fiancé
And worn on the big day,
About fingers they made much ado.
Polly's twins were so copy-and-paste
Telling one from the other? Disgrace!
Til she gave Sam a dot,
On his toe and from then on she aced! 
On her toes, though, the shade got much praise.
Through the sand and the sea 
In the summer, such glee
Seeing piggies with polish so glazed.
A break she once took before wedding,
Oh, those fake nails caused damage and shredding.
'Til the habit Polly kicked
Without getting a beauty beheading!  
The Honeymoon called for hot pink,
A
Fiesta
in Mexico, wink wink.
Holding hands with amor,
Her nails shone galore
Especially toasting a drink.
Every pal loves the fanciful names.
They cause jubilee in all the dames.
The mere sight of the rack
And those shades bring you back
To your earliest Crayola games.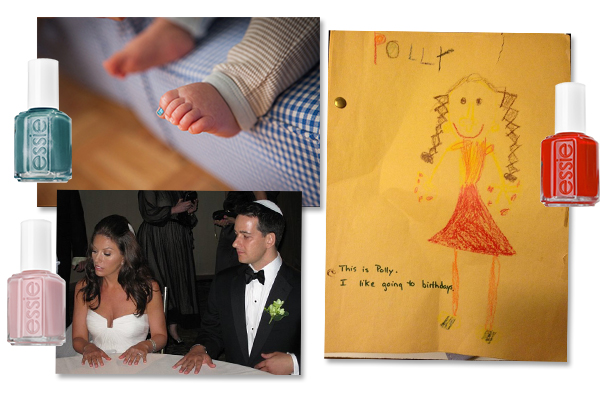 Dear Essie (the person and the brand!),
Every stroke of color brings joy. There's so much magic packed inside each square bottle. Thank you for the vibrant, colorful moments!
xx
Polly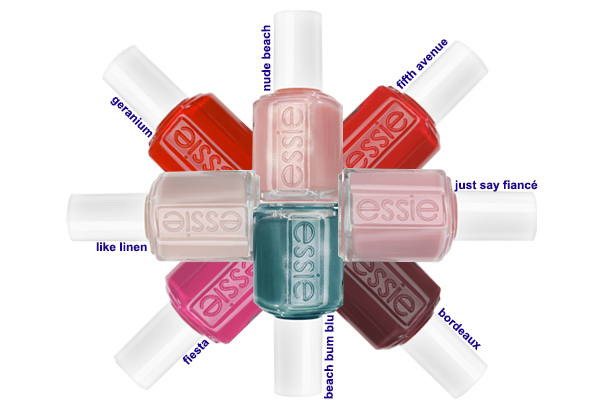 Keywords
Get the latest beauty news and inspiration!
Sign up for our newsletter to receive the latest from Beauty Blitz delivered straight to your inbox.