Nonie Creme's Advice for Awesome Nails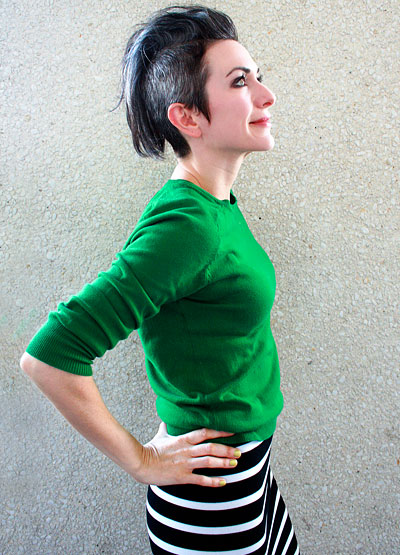 Nonie Creme is one of the top fashion manicurists and the Creative Director for Butter London. Every season, we see Nonie backstage at New York Fashion Week with custom blended shades for designers along with her innovative nail designs. We got the dish on Nonie's nail beliefs that will inspire your next manicure.
Exfoliate Your Cuticles
Whether you have polish on or not, the key to gorgeous hands are cleaned up cuticles. "Instead of cutting your cuticle, it's a better idea to exfoliate," Nonie said. She recommends the Butter London Melt Away Cuticle Eliminator ($20). "Just paint it on and let it sit for a few minutes, and then you rub it away with a q-tip. It's almost like a glycolic peel for your cuticles."
Black Polish is Seasonless
Fall may call for darker hues went it comes to cold weather manicures, but investing in a good bottle of black lacquer like Union Jack Black ($14) is a must. Nonie said the shade is no longer associated with goth, but rather expensive and chic fashion. "So even the die hard color fanatics understand the importance and the power of black as a wardrobe staple," she said. "The black nails is literally like having a few good LBDs hanging in your closet. It's something I roll out when I don't know what else to do, and it will work with anything." Nonie even likes the idea of pairing it with a girly white dress in the summer. "I love jet black with a high-shine top coat, these kinds of things are seasonless now."
Almond-Shaped Nails
Nonie may be known for favoring nails the skew to the shorter end of the spectrum, but backstage at Spring 2012 shows, she's into almond-shaped nails. "I knew the day would come when I'd finally be like, 'We've got to do some length,'" she said. "I think the time is now for a soft almond. It's still shortish; when I say length I mean a little bit of sexy, beautiful length; elegant."
Personalize the Trends
"Something we've been talking and thinking about a lot is the changing face of the beauty consumer and how it's so individualistic," Nonie said. "There are definitely trends that happen, but not everybody subscribes to every trend in the way we used. We used to say the trend is greige, and then we'd all buy greige and wear greige. Some still love the griege, but some want color, and some want matte. This season is hugely diverse. I've done everything from a clear nail to a black nail to ombre dip dye art. It's just been all over the place. It makes it hard to pluck out trends, but it also makes it more fun, because we can talk about what's inspiring to us."
Keywords
Get the latest beauty news and inspiration!
Sign up for our newsletter to receive the latest from Beauty Blitz delivered straight to your inbox.