3 Non-Foundations for Every Level of Coverage
Cara Delevingne for Allure Magazine October 2014 by Mario Testino
Foundation has single-handedly kept my self-esteem in check for years. I had acne, and if it wasn't for the spackle, I would have never left my house. Now that my skin is pretty much normal, I can definitely go without it. But I don't. There's a sense of security that I get when I have foundation on so it has become a hard habit to break. I'm basically that child who refuses to let go of her security blanket. Just call me Linus. 
With that said, it's pretty obvious that I'm not the perfect candidate for the no-makeup makeup trend, but I also don't want to rely on foundation to feel complete. I want something that gives me a little bit of coverage (mainly to even out my skin tone) but still lets my skin shine through. Hey, I don't want to pile on the fancy skincare if I can't show off the great results! The following three products are what I like to call non-foundations. Each one supplies its own level of coverage, depending on what you're into, and just makes skin look fantastic without feeling remotely close to a full-coverage foundation, or even a BB cream or tinted moisturizer for that matter. Here's the scoop. 
Your skin, but better
I love the simplicity of Into the Gloss founder Emily Weiss' new skincare line Glossier. The 
Perfecting Skin Tint
 ($26) is basically skincare disguised as makeup. If you're one of those girls who wants something in between bare skin and makeup, this is it. Its liquid consistency is like water, with a slight tint to even out your skin tone, and is made with ingredients such as diamond powder to brighten, blur and minimize pores and glycerin to retain moisture. It allows all of your pretty features to shine through, while masking the stuff you'd prefer to not show off…yet. 
For someone used to a lot more coverage than the Perfecting Skin Tint offers, I knew this wasn't something I'd be comfortable with wearing every day on its own. But I was pleasantly surprised at how nice my skin looked. It left my complexion super dewy and showed off all the hard work of my skincare products.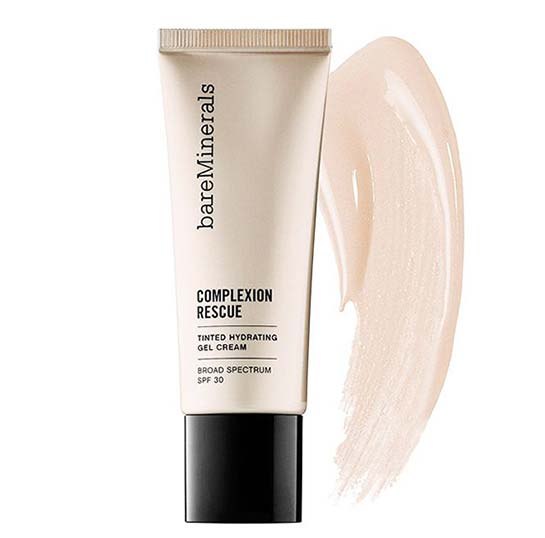 The new tinted moisturizer
If you need a little more coverage than the Perfecting Skin Tint offers, try bareMinerals' new 
Complexion Rescue Tinted Hydrating Gel Cream
 ($29). The fluffy, whipped texture applies sheer but allows you to build it up to your desired coverage level without caking or the feeling of heavy makeup on your skin — it's that light. But the best part about this tint is the hydrating humectants that literally make you feel like you're splashing your face with water when you put this on. Just think of it as a whipped moisturizer that hides all your imperfections and leaves your skin glowing all day long.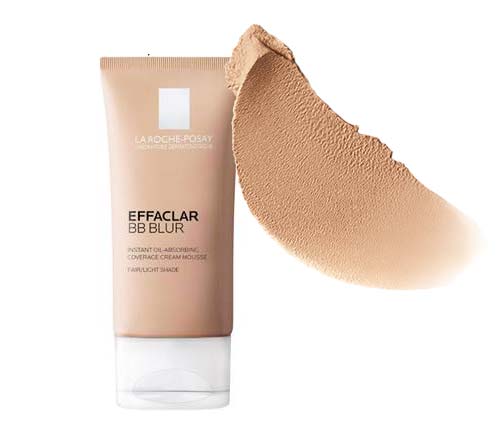 A real-life Instagram filter
As much as I love all three of these non foundations, when I have this 
BB Blur Cream Mousse from La Roche-Posay
 ($29.99) on, I can't stop staring at my skin. Everyone probably knows how much I hate my large pores by now. I've tried a ton of
pore-minimizing primers and makeup
to try to get that airbrushed finish. While they all worked pretty well and I was happy with the results, this one is on a whole other level. The coverage is impeccable, my pores look nonexistent and there is not a single oily patch on my face when I wear this. Instead, my skin looks like I've got a permanent Instagram filter on at all times. 
I'm going to let you in on a little secret. While I've had all of these on rotation (on their own) for the past few weeks and they've all been great, I decided to try a little experiment. First, I applied a light veil of the bareMinerals Complexion Rescue all over my face. Then, I took the La Roche Posay BB and put it on where my pores and imperfections were most prominent – mostly on my cheeks and T-zone. The result? F-L-A-W-L-E-S-S. It was the best decision I've ever made. My skin is slightly dewy thanks to bareMinerals, yet it's "Photoshopped" it all the right places with the La Roche-Posay BB Blur. I've got a subtle glow going on and have never felt better about my makeup. I'm convinced that I can take on a magnifying mirror and win.
Keywords
Get the latest beauty news and inspiration!
Sign up for our newsletter to receive the latest from Beauty Blitz delivered straight to your inbox.