4 New Ways to Wear Lipstick (And Not on Your Lips)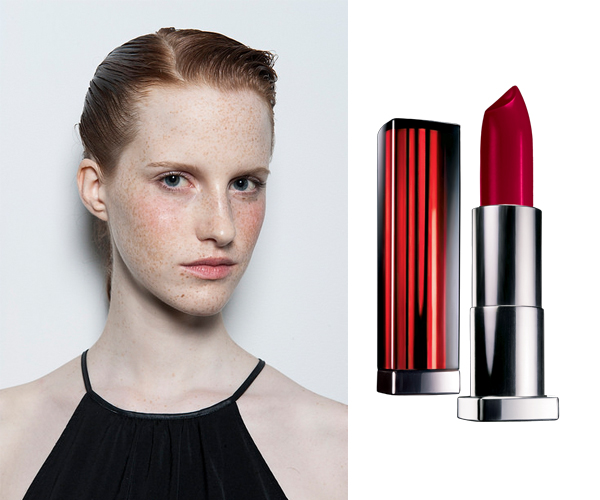 Suno Spring 2015
Have you ever had a lipstick that just did not look cute on your pout, but you couldn't bear to toss it out? So it just hangs out at the bottom of your makeup drawer or bag all pretty and unused? There is still hope, people! As a lipstick hoarder myself (I have 24 on my desk as we speak, no joke), I look for new reasons to whip out my unused hues that make as big of a statement as they would on lips. 
So far at New York Fashion Week, we've seen a good amount of bold lip action on the runway. Makeup artist Uzo led the Nars team at Tanya Taylor, where models wore a shocking orange-red lip (Nars Timanfaya Satin Lip Pencil), while Kabuki matched the lips to the nails at Zac Posen using the MAC's Cherry Lip Pencil and Red Lipmix. But what really got me excited was seeing how four makeup artists worked with lipstick on other parts of the face this season. Because, as Miranda Priestly would put it, "Lipstick on lips? Groundbreaking."
At Suno, Alice Lane took inspiration from Georgia O'Keefe's color palette and chose Maybelline's Color Sensational Lipcolor in Red Revival over cream blush for the cheeks. "In order to make [lipstick on your face] look good, don't do it over a heavy base," she says. "If you put it on a heavy base, then it becomes doll-like." Lane used Maybelline Dream Pure BB on models before pressing the lipstick high on the cheek with her fingers. "Lipstick is very forgiving," she adds. "It looks like the color came from within that way." 
As for the best lipstick formula to wear on your cheeks, Lane recommends a "juicy" texture. "I would go with thicker, heavier, more pigmented ones. The cream ones can slide off; get something quite juicy."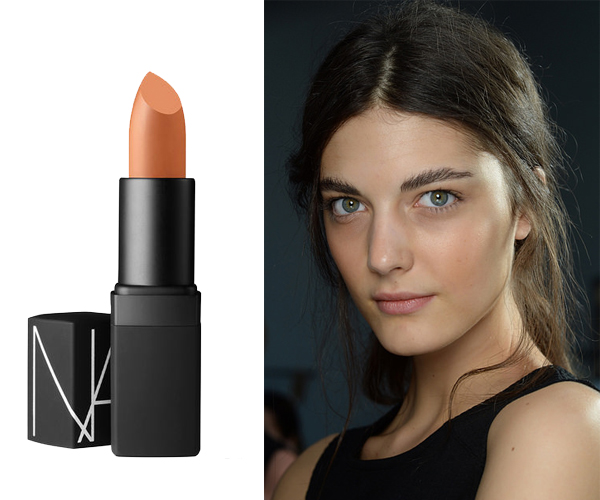 Creatures of the Wind Spring 2015
Nars' James Boehmer had a similar idea for the "skater boy" look at Creatures of the Wind. But instead of repurposing lipstick as blush, he used it more as a bronzer. Boehmer used a new-for-spring-2015 shade of lipstick dubbed Ligueria, but you can try Belle Du Jour Sheer Lipstick to get the same effect. He applied the color on the point of the cheek and blended in with his finger. "Almost like a triangle so you really get that skin effect rather than looking like a contour and highlight," he added. "Like little kids at the end of the day when they're running around and they get this red stripe on their face. That was the idea."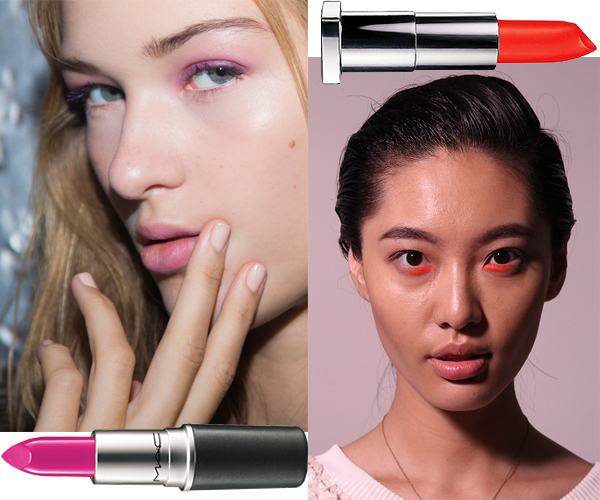 Derek Lam Spring 2015 (left); Peter Som Spring 2015 (right).
Lipstick also made its way onto the eyes this season. Maybelline's new Global Makeup Artist Yadim created a super cool look at Peter Som by applying Maybelline Color Sensational Vivids Lip Color in Vibrant Mandarin on the inner corners of the eyes. Meanwhile, over at Derek Lam, Tom Pecheux for MAC Cosmetics chose lipstick over eyeshadow when he applied MAC Pro Violetta Lipstick "on the lash line and into the crease and outward." He used the 242 Shader Brush to blend the color seamlessly. 
Keywords
Get the latest beauty news and inspiration!
Sign up for our newsletter to receive the latest from Beauty Blitz delivered straight to your inbox.