A New Take on the Classics at Vera Wang - Fall 2012
All photos: Mat Szwajkos for Beauty Blitz.
"The inspiration for Vera is churches - ceilings of Gothic churches," explained Lucia Pieroni, Makeup Creative Director for Cle de Peau Beaute. "So we wanted to do something sort of structured but incredibly simple at the same time."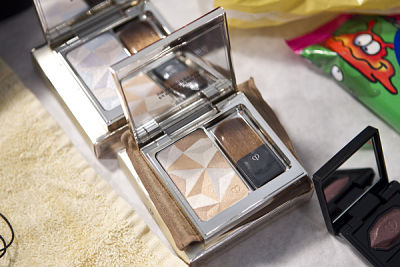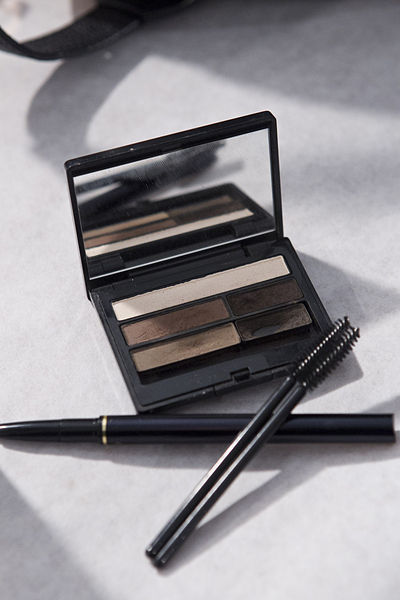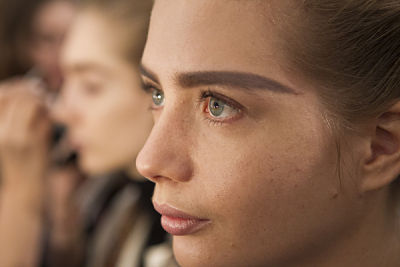 The focus of the of the look were strong sculpted eyebrows. Lucia left the rest of the face pretty bare, but accented with the Luminizing Face Enhancer to give them a soft glow to off set the harshness of the brows. "Greecian or Roman sculpture have amazing faces and they have amazing eyebrows, if you actually look at them," Lucia said "They're all white, so you don't really notice it, but I wanted to evoke that."
While Lucia looked to classic art for inspiration, Paul Hanlon for Fekkai created a windswept style that came from the idea of savage beauty. "I like the idea of something that once was beautiful, but the elements and nature has taken its toll," he said. There's a primitiveness to it."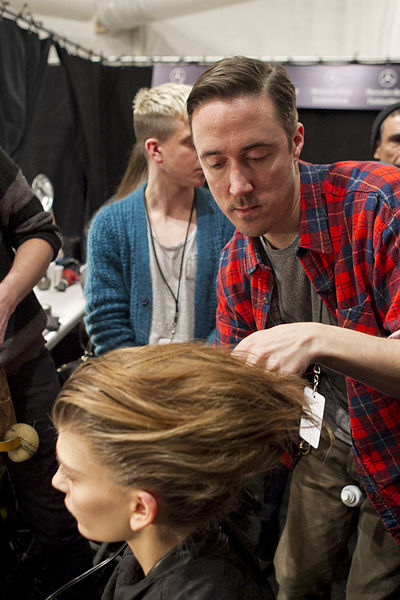 He created the look by blow drying the hair with Fekkai Full Blown Volume Mousse. Once it was completely dry, he backcombed the hair starting at the nape of the neck until he reached the crown. He wrapped the hair into two knots in the back of the head. He brushed teased hair back to give it that billowy feeling and sprayed it with hairspray.
"You have to be careful when you're doing hair that has a classic base, because it can look very old very quickly," Paul explained. All the texture and organic shapes give it that youthful and more modern feel.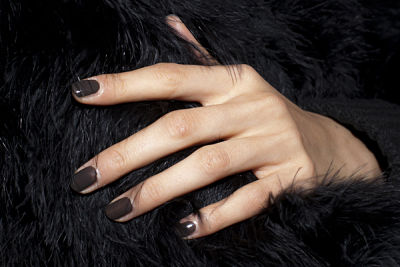 Manicurist Myrdith Leon-McCormack has been doing the nails backstage at Vera Wang for years, and this season, she was excited to do something new. "The collection is very dark, very edgy, very modern," she said. "And for the first time in 11 years of working with Vera, she finally used a color - a dark color." Myrdith was painting OPI Get Out of the Espresso Lane on the models' fingertips.
Keywords
Get the latest beauty news and inspiration!
Sign up for our newsletter to receive the latest from Beauty Blitz delivered straight to your inbox.