We Put 3 New Sonic Facial Cleansers to the Test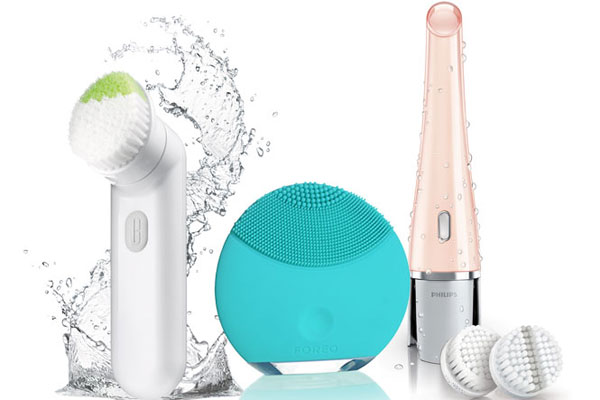 You've never really felt clean unless you've used a sonic facial cleanser. Clarisonic may have put the devices on the map, and now, a few more brands have jumped on the bandwagon. But are they as trusty as the original? As a Clarisonic user for a few years, I was convinced that it wasn't possible. I've tried more affordable versions, but they just didn't get the job done. So I was hesitant to even bother with these three new sonic facial brushes, even though they came from reliable brands. Read on to see if they're worth your time. 
The Brush: Clinique Sonic System Purifying Cleansing Brush
For Clinique, it's not just about the brush, it's about the system. The Sonic System Purifying Cleansing Brush was made to work with the brand's custom-fit three-step skincare routine, featuring the brand's Liquid Facial Soap, Clarifying Lotion and
Dramatically Different Moisturizing Lotion+
. The lightweight, compact brush features an oval-shaped design that allows you to tackle hard-to-reach areas like the nose, hairline and chin. The brush head is made with two types of rounded bristles for a gentle cleansing experience. First, the shorter and firmer, pale green bristles mimic the intuitive motion of the hand. The angled tip makes it easier to focus on oilier areas like the T-zone. The white bristles, which are softer and less firm, were designed for delicate areas like the cheeks, where there are fewer oil glands. Together with the sonic vibrations of the brush, the bristles massage skin while loosening dirt and oil much better than manual cleansing. Other features include an easy-to-hold, waterproof handle, a 30- and 60-second self timer, and three hours of battery life. 
My Experience: 
At first touch, the bristles felt amazing on my skin. They are so, so soft and gentle. The brush itself doesn't rotate or oscillate, but I still really felt like I was getting a deep clean. It's the closest thing to a facial massage at home, which is awesome for increasing circulation. I wear a decent amount of makeup, and this baby got rid of every last bit of dirt, oil and foundation. The proof was in the white wash cloth I used to dry my face, which didn't show any trace of residue. That says a lot! The entire routine, including the Clinique products in the system, offers up truly clean and healthy skin for a great price. 
The Brush: Philips PureRadiance Facial Cleansing System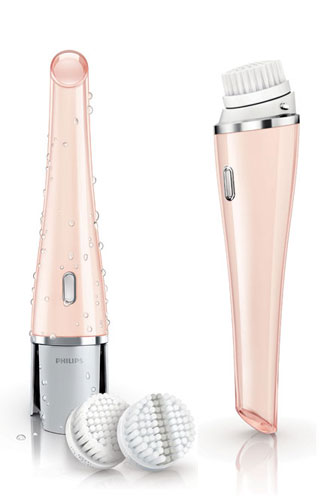 Philips makes awesome sonic toothbrushes, so it was only a matter of time before they hopped on the sonic facial cleanser bandwagon. The new PureRadiance brush features a unique, advanced dual motion with two frequencies that give off a shaking movement to break up dirt, dead skin cells and makeup. There are three brush heads – normal and sensitive for every day use, and exfoliation for weekly use. Each one is super gentle on skin. So gentle, in fact, that the normal and sensitive brushes can be used up to two times a day. Other features include a skin zone timer alert, two speed settings (gentle and deep cleansing), an upright charging stand that allows the brush to air dry while charging, and battery life for up to 30 cordless uses. 
My Experience: 
The soft, rotating bristles are kind of addicting. The only drawback was the rounded design which made it harder to reach the crevices around my nose. But, overall, I felt it really getting deep down into my pores, washing away all my makeup and then some. My white washcloth had a few stains after drying, but my face still felt super clean. The slim handle was also really comfortable to hold and it wasn't heavy at all. 
The Philips PureRadiance Facial Cleansing System is available at
Bed Bath and Beyond
for $149.99 and includes a normal and exfoliating brush head. Replacement brush heads go for $17.99 for the normal and sensitive heads, and $19.99 for the exfoliating brush. 
The Brush: Foreo Luna Mini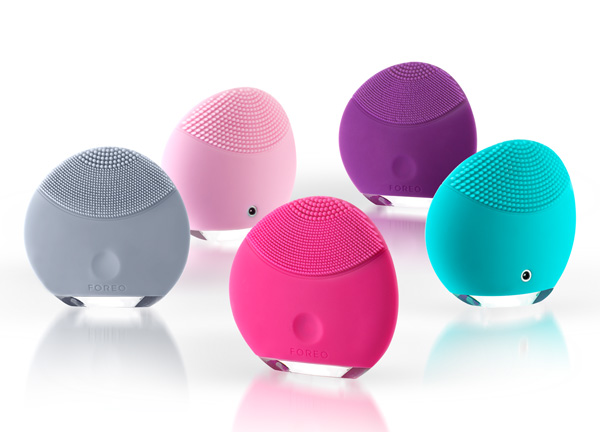 This unique brush is part of the innovative Foreo family. The Luna Mini is a bite-sized version of the original Luna, a pulsating sphere made with silicone touch-points that uses transdermal sonic pulsation to wash away dirt, oil and makeup residue. The Luna Mini is not like other sonic facial cleansers you've tried before; it doesn't even have a brush! That means you don't have to spend 25 bucks every few months to replace anything, because the Foreo is 35 times more hygienic that nylon bristles. The technology uses 8,000 pulsations per minute that are channeled by the Mini's silicone touch points in a non-irritaing tapping motion. That motion is what gets all that dirt and grime out of your pores. It features two sides of different touch points: thicker points for oilier skin and thinner ones for sensitive areas, as well as two adjustable speeds and three facial cleansing times. 
My Experience 
The Foreo Mini is truly unique. I initially though I wasn't going to get a deep clean because there weren't any bristles, but I was wrong. The way those silicone touch points vibrate on skin felt like I was getting a shiatsu massage on my face. Compared to other sonic cleansers, the touch points didn't feel like they were getting deep into my pores, but my face did feel pretty clean afterwards. My white wash cloth was a little more stained than the others, but for a little brush with rubber bristles, it did a good job. I was also advised that you can use the Foreo to massage your skincare products onto skin after cleansing. You can't do that with any other brushes! I used it that night and it felt so amazing. It helped my skincare products really sink into skin. Plus, it's available in a bunch of cute colors and comes with a charger (one charge gives you 300 uses) and a two-year warranty. 
The Foreo Luna Mini is available at
Sephora
for $149. And with the Luna, you won't ever have to pay for replacement brush heads again. 
Keywords
Get the latest beauty news and inspiration!
Sign up for our newsletter to receive the latest from Beauty Blitz delivered straight to your inbox.