You Won't Believe What I Use This Nail Polish Remover For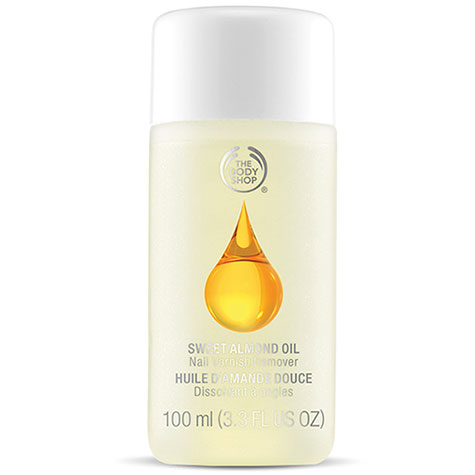 I recently bought myself a pair of patent leather ankle boots and after just one day of wear, they already had scuff marks on them. (I can't have nice things.) I knew there was a quick fix, but I didn't know what to use. After Googling for a solution, I found out that acetone-free nail polish remover does the job without ruining your shoes. If this is new to you, you're welcome. If not, let me explain my other discovery. 
I didn't think I had any acetone-free nail polish remover around. I must admit, I'm a 100% acetone kind of girl (#guilty), but to my surprise, I had something better. A couple of months ago, The Body Shop launched their vegan nail polish line, and with it came this Sweet Almond Oil Nail Polish Remover ($10). I was a fan from the get go. A gentle nail polish remover that gets glitter off easily and conditions my cuticles? I mean, is there anything better? Little did I know it would also act as the perfect shoe polish for my winter boots. 
Now, I don't want to tell you that you can use it on any shoe; I'm no expert. But I've used this on not only my patent leather ankle boots, but on my distressed leather booties and regular black leather boots, too. It took the scuffs off the patent leather in a breeze, brought my distressed leather booties back to life (they were a little too distressed after a year, if you know what I mean) and shined-up my black leather boots beautifully. I loved that the outcome wasn't too greasy or shiny, like other shoe shine products. 
But it's not the finish that had me at 'Hello', it's the formula. This unique remover is made with almond oil, an ingredient also found in many leather polishes and conditioners. See where I'm going with this? The Sweet Almond Oil Nail Polish Remover is the ultimate multi-tasking beauty product. It erases nail polish while conditioning cuticles, and it shines and conditions leather goods. Get involved! 
Keywords
Get the latest beauty news and inspiration!
Sign up for our newsletter to receive the latest from Beauty Blitz delivered straight to your inbox.