This Taiwanese Mask is Like a Glass of Wine for Your Face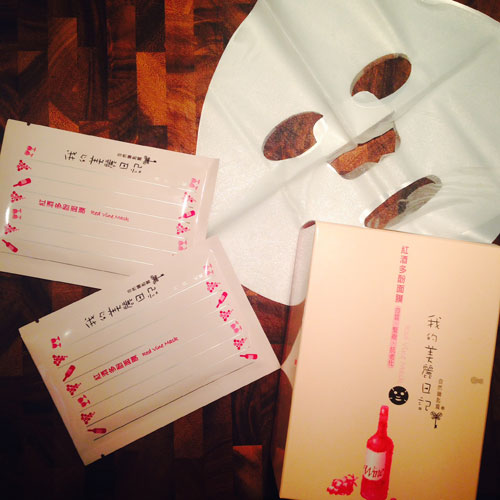 Beauty standards differ depending on where you are in the world, and so do the products that promise to make you prettier. In our Globetrotter series, we highlight our weirdest and most worthwhile finds from overseas.
Before sheet masks made their way over to the U.S. from Asia, I never thought a piece of serum-soaked cloth would be so addicting. Now, spending a Sunday night in a mask fit for a slasher flick has become somewhat of a ritual for me. Even though I'm an equal opportunity sheet mask devotee, there's just something about a product coming straight from its origin that I can't resist. That's why I couldn't wait to get my hands on My Beauty Diary, a Taiwanese skincare brand that specializes only in face masks. It offers a wide range of formulas featuring some pretty interesting ingredients – like sake yeast, royal jelly and caviar – that target a variety of concerns. 
I chose the Red Vine Mask, a brightening and firming sheet drenched in a red wine polyphenol-packed serum that turns dull skin into a radiant complexion after just 20 minutes. Red wine polyphenols are also an anti-oxidant powerhouse, which makes it the ultimate ingredient for great skin. 
The sheet itself is one of the softest I've ever tried, although a little on the thinner side. After wearing it for about 20 minutes and rubbing the leftover serum in after taking it off, I noticed a nice lift to my skin. But it wasn't until I put my makeup on to go out that I realized how glowy my complexion was. Let's just say I didn't need any highlighter that night. 
My Beauty Diary Red Vine Mask, and other formulas are available on
Amazon.com
for just $14.99 for ten packets. 
Keywords
Get the latest beauty news and inspiration!
Sign up for our newsletter to receive the latest from Beauty Blitz delivered straight to your inbox.