Are You Living in the Most Wrinkle-Prone State in America?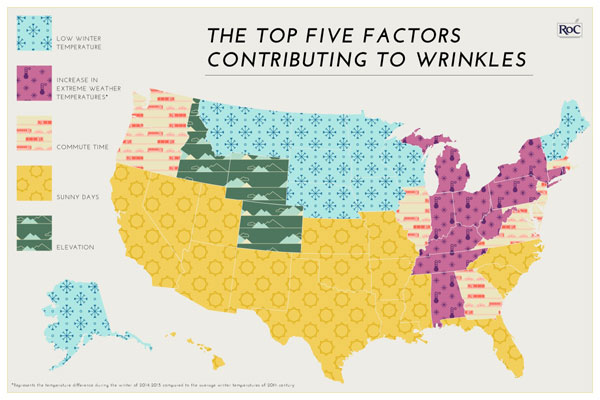 It's no surprise that our environment plays a huge role in aging. Everything from pollution and UV rays, to our own lifestyle can cause wrinkles and it's our job to protect our skin from the elements. But did you know that where you live is also a contributing factor of aging?
RoC Skincare
and Sperling's Best Places recently released their second annual Wrinkle Ranking study, which shows us the most wrinkle-prone states in America, and the results were fascinating. 
In order to determine what states offer the most risk of skin damage, RoC Skincare and Sperling's Best Places performed a meta-analysis of a variety of original and existing research in the field of study. They looked at lifestyle, occupational and environmental criteria that relate to skin damage. Once the data was collected, they adjusted their findings based on the current population to arrive at "per capita" figures, which allowed them to compare all the facts between states. According to press, "Each state in the study received points for each of the criteria based on their relation to the other state's scores in that data category, and Category scores were weighted and aggregated to determine an overall "Wrinkle Index" score to rank the U.S. states."
The map above shows the top five causes of wrinkles and marks each state to it's highest contributing factor. They are: low winter temperature, increase in extreme weather temperatures, commute time, sunny days and elevation. We listed the full rank of states below, but here is a quick rundown of the results:
1. "The 'Big Apple' is Stressed at its Core: New York (Ranked #1) reports very high scores for being "dissatisfied with life" and "lacking emotional support,"and has the second-longest commute times." 
2. "Battling Beltway Influences: The District of Columbia ranks in the middle of the list (Ranked #23). Washington, D.C. has the lowest rate of skin cancer, but this is offset by high scores for ozone pollution, lengthy commute, long work week and binge drinking."
3. "All That Sunshine is Serving Them Well: States such Hawaii (Ranked #47), Mississippi (Ranked #31), and Louisiana (Ranked #29), while considered to be the sunniest states, actually have the lowest rates of skin cancer and averted being ranked in the top 25 most prone wrinkle states."
4. "High Health Alert South of the Mason-Dixon: Southern states such as West Virginia (Ranked #3), Tennessee (Ranked #8) and Kentucky (Ranked #7) ranked in the top 10 due to their generally poor diet and high percentage of smokers."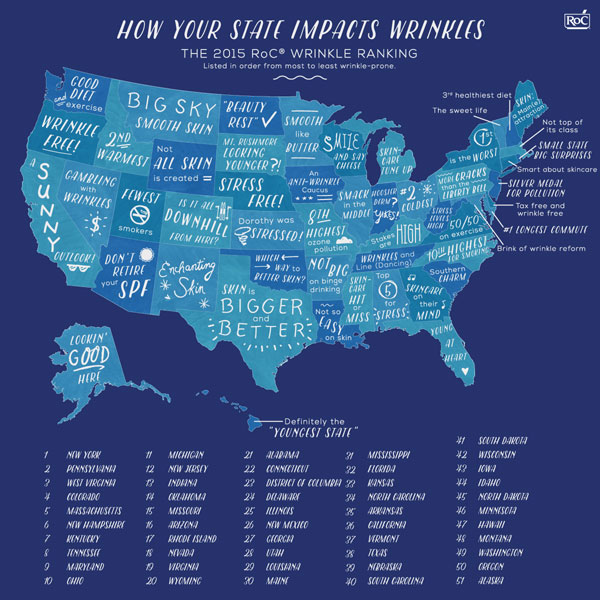 Okay, who's moving to Alaska with us? For more information about the Wrinkle Ranking Study,
click here
. 
Keywords
Get the latest beauty news and inspiration!
Sign up for our newsletter to receive the latest from Beauty Blitz delivered straight to your inbox.